Thai Cooking Classes in Phuket - Do you love the exotic flavours of Thai food? Want to learn the secrets of authentic Thai cooking? What better place than right here in Phuket. Courses range from simple introductions that give you a taste of the basics of Thai cooking all the way to intensive classes that can turn you into a master chef.
The knowledge of Thai cooking is a souvenir that will last your entire life and enable you to re-live your Phuket holiday on the rainiest of days. Thai cooking courses are taught by highly experienced and well-regarded Thai chefs who can teach you about ingredients, techniques and the all-important balance of flavours. Cooking classes in Phuket are available all year round. Please check below for details.
Interested in this tour? Book it here.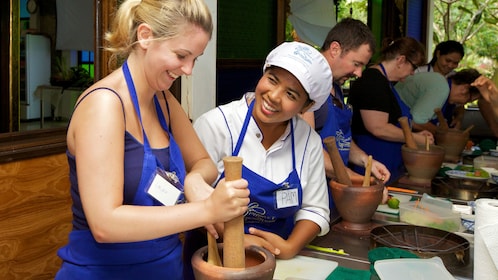 per traveler
Free cancellation
Book
The Blue Elephant Cooking Class is part of the well-known Blue Elephant Restaurant in Phuket, and is the place to come if you want to learn how to cook traditional Thai dishes with a range of knowledgeable and seasoned local instructors.
Classes here begin at either 08:45 or 13:30 and run from three to five hours, depending on the type of class you choose. The morning class comes with a trip to the nearby market, where you can learn all about local ingredients and how they are used in Thai cookery. If you choose the afternoon class, this does not come with a market tour, but you will get to learn all about the theory of Thai flavours and cooking techniques. Read More...
Opening Hours: 08:45 – 22:30
Location: 96 Krabi Road, Phuket Town
Tel: +66 (0)7 635 4355-7
2
Dusit Laguna Phuket
Bangtao Beach
Thai cookery classes every Tuesday, Thursday and Saturday afternoon from 15:00 to 17:00. Students will learn from a master of Royal Thai Cuisine as they teach a different four course menu every day.
Students will also receive a Dusit Laguna apron as well as class folders which include instructions and illustrated recipes.
Contact Guest Activities at +66 (0)7 632 4324 Ext. 2855 for registration and complete menu details.
3
Organic Thai Cooking
Rawai
Organic Thai Cooking offers a fun and informative day learning how to prepare and cook some of Thailand's most delicious dishes. Classes include a visit to a Thai outdoor market with all its colours, scents and sounds, giving you an authentic look into a very interesting part of Thai culture and showing you all the available fresh produce and spices. They will also show you around their organic garden farm and you'll be surprised at how many vegetables can be grown in such a small area through the use of simple techniques, totally pesticide free. Class sizes with a maximum of three students are very small, ensuring a highly personalized and quality experience.
Opening Hours: Classes are run daily from 08.30 to 13.00
Address: 76/3 Moo 2, Soi Cokmakam, Rawai, Phuket 83100
Tel: 089 970 1797 or 076 288 258
Website: http://www.organicthaicooking.com/
4
Phuket Thai Cooking Academy
Kathu
Phuket Thai Cooking Academy makes cooking Thai food fun. They offer professional hands-on classes in– beginner cooking classes, vegetarian classes, private classes and advanced cooking classes. Fruit carving and team building events are also available. Their English and Chinese-speaking Thai chefs will teach you authentic Thai cooking in a comfortable and scenic school which is conveniently located five minutes from Patong Beach in Kathu. They offer free transportation, recipes, and certificate of achievement for every student. They teach Thailand's most popular food Monday thru Saturday with two classes daily.
Opening Hours: 08:00 - 18:00 from Monday to Saturday
Location: On the road leading to Kathu Waterfall
Pum Restaurant emphasize simplicity: dishes are based on traditional Thai Cuisine adapted for a modern, fast paced world. They will teach how to recreate recipes you have learnt here in Phuket, in the comfort of your own home by keeping things simple and using only fresh, natural ingredient that can be found in most countries today.
You won't need any basic skills or any knowledge to start, young Thai teachers will very kindly explain the used ingredients then guide you through the surprisingly simple process of cooking. Soon you will discover the pleasure of cooking yourself a delicious dish you problably had last night in your favourite Thai restaurant and you will be your own judge... simply delicious.
Classes are run daily and offers several options, most popular will allow to choose 3 o 4 of your favourite Thai dishes and last 3 to 6 hours. A recipe book and a certificate will be given according to chosen option. Read More...
Price Range: Starts 900 Baht.
Rate This Place:
( votes)