The waters around Phuket contain some excellent underwater scenery and fringing coral reefs with the result that diving has become a major Phuket-based recreational industry.
This region's coral reefs are home to a huge variety of coral reef fish and hard corals. Add to this, an undetermined number of soft coral species plus tens of thousands of other marine organisms, including crustaceans, echinoderms, and worms, each with its own role in maintaining the coral reef ecosystem as a whole and you have a fascinating diving environment. (See our Diving section).
These waters include more than 850 species of pelagic fish (open-water as opposed to demersal, or those living near the bottom), many of them of commercial value. The Andaman Sea is on the migration routes of classic fighting fish such as the blue marlin. Other much-sought-after trophy fish are black marlin (relatively scarce), sailfish, barracuda and a variety of sharks, notably tigers and makos. (See our Fishing pages).
Five species of sea turtle nest on islands in Thai waters - leatherbacks, green turtles, loggerheads, hawksbills, and ridleys. All of these are endangered species, and they are less frequently sighted every year. Aside from more than 30 recorded species of sea snakes, the only other marine reptile in the region is the brackish-water crocodile, virtually extinct, a species which inhabits mangrove swamps and river estuaries along the southern peninsula.
Other marine life of note includes the mammals. At least two species of dolphin are commonly found in Thai waters: the Indian porpoise and the long-nosed dolphin. Whalesharks are also occasional visitors. The dugong, or "sea cow", is now all but extinct, and the Thai Fisheries Department has declared it a protected species.
Interested in this tour? Book it here.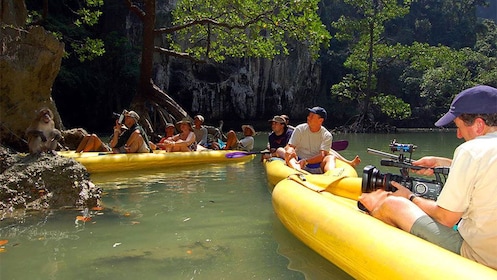 per adult
Free cancellation
Book
John Gray's Sea Canoe
There are not too many people in the world who would choose to call themselves "Ling Yai" - Thai for Big Monkey - or have their employees refer to them by that name. But John Gray is proud of the nickname. He signs off his emails with it, even adding another nickname, "Caveman", which was given to him by fellow runners in the Hash House Harriers. So John Gray is an unusual man. He's also fascinating to talk with - a passionate, 24/7 environmental activist with a sense of humor to match his sense of mission.
Rate This Place:
( votes)