There are plenty of really memorable things to do in Phuket. The island itself has a beautiful historical old town, great viewpoints and iconic cultural attractions. It's also a good base for exploring the nearby islands and their must-see attractions. These include world-famous places like Phang Nga Bay and the Phi Phi Islands.
The following list is our pick of the things which are definitely worth a visit while you're in Phuket. Being a place of great variety, there's something among the best things to do in Phuket for virtually every kind of traveller. Take a look below and see what sparks your interest.
Interested in this tour? Book it here.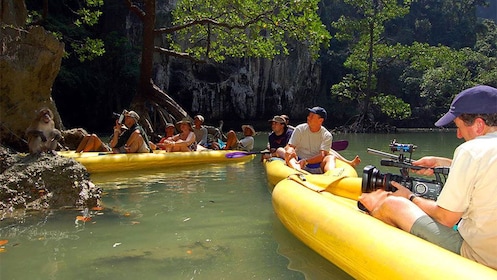 per adult
Free cancellation
Book
Phang Nga Bay is unique. A day out here is an unforgettable experience that will definitely get you thinking. A distinctive feature of the bay is the sheer limestone cliffs that jut vertically out of the emerald-green waters. These islands are home to sheltered fauna that are possible to observe on certain tours. James Bond Island and Koh Panyee are just 2 of the more famous spots in this bay. Read More...
Location: Phang-nga 82000, Thailand
The Phi Phi Islands are Thailand's superstar archipelago, particularly famous for Maya Bay's central role in the 2000 movie The Beach. It's the topic of conversation for travellers all over Thailand. For some, it's the only reason to touchdown in Phuket. Even with all the hype, it doesn't disappoint.
Phi Phi's beauty is a large chunk of the allure. The islands, when approached by boat, rise from the sea like a fortress. Sheer cliffs tower overhead, then give way to beach-fringed jungle. It's love at first sight. Read More...
Location: Krabi 81000, Thailand
There are few things in this world to prepare you for an after-dark stroll down Patong's Bangla Road. However, a sense of humour and an open mind are essential if you're looking to have some fun. The biggest collection of nightclubs, bars, shows and general nocturnal fun in Phuket, it's pretty much an all-out assault on the senses. In spite of this, it is still very much one of the essential things to do in Phuket, even if it's just to say that you have! Read More...
Location: Bangla Rd, Patong, Kathu, Phuket 83150, Thailand
Visible from most of the south of Phuket, the Big Buddha sits atop the Nakkerd Hills and looks down over Chalong, Kata and Rawai. It cost 30 million baht to construct and is 45 metres tall. Next to it stands a smaller golden image that's actually made of solid brass and there's also a shrine near the site's car park. The drive up to the Big Buddha takes you through some beautiful jungle and the view from the top is enhanced if you take a map to identify the many, many sights. Read More...
Opening Hours: Daily from 6am to 7pm
Location: Soi Yot Sane 1, Karon, Muang, Phuket 83100, Thailand
Tel: +66 (0)81 891 3827
The stunning Similan Islands are surrounded by amazingly clear blue seas and pristine white-sand beaches. Heaven for island-hoppers and scuba divers, the 9 islands are about 30 km off the coast of Khaolak. They're ranked among the best dive sites in the world for their lively and colourful coral reefs and perfect visibility. For non-divers, the famous Sailing Boat Rock is on Similan No. 8 and is an iconic feature of this must-see archipelago. Read More...
Opening Hours: From 15 October to 15 May (dates may vary each year)
Location: Lam Kaen, Thai Mueang, Phang-nga 82210, Thailand
We can't have a list of the best things to do in Phuket without mentioning the beaches! With more than 30 to choose from, the island is understandably famous for them. There's a lot of variety available, ranging from little secluded coves to long and lively shores.
Most of the best beaches in Phuket are along the west coast. They offer beautiful sunsets, along with their soft white sands and clear blue seas. Read More...
Phuket has an impressive selection of night markets to choose from. Each has its own unique charms, but all offer interesting souvenirs at low prices. They're an excellent place to try local street food and snacks, and some also have street performances and music. Being open in the evenings means that you don't get too hot while getting your shopping fix. Read More...
The Andaman Sea around Phuket is littered with absolutely stunning little tropical islands. Phi Phi and the Similans certainly stand out among them, but there are others closer to Phuket which are worth visiting.
These tiny lumps of pristine sand in wide expanses of azure blue seas are real-life desert island escapes. Enjoy sunbathing, exploring and snorkelling, as well as a general sense of getting away from it all. Read More...
Wat Chalong is one of Phuket's most important temples and is visited by thousands each year. It's beautifully decorated, with infinite reflections from hundreds of tiny glittering glass pieces on its many pagodas. It has an interesting history and is Phuket Island's spiritual centre.
Wat Chalong isn't the only remarkable temple in Phuket, however. There's an impressive number of them dotted around the island, several of which are home to impressive Buddha statues. Each has its own particular charms and remarkable features, making them worth seeking out and exploring. Read More...
There are many viewpoints on both the east and west coasts of Phuket, affording sunrise as well as sunset views. Everyone goes to Promthep Cape, but it doesn't make it any less spectacular. There, you'll get fabulous views over the ocean stretching as far as Phi Phi Island on a good day.
Check out Phuket's other viewpoints, such as the '3 Beaches' hilltop view on the road between Nai Harn and Kata, or sip a cocktail at the After Beach Bar (also on the same road), while the sun slips below the western horizon. Read More...
With great beaches come great beach clubs, and some of Phuket's are among the best in the world. These chilled-out venues offer great music, first-class food and delightful cocktails. Just steps from the sand, and often featuring splash pools, good times are all but guaranteed. With regular special events and parties, these are among the best places to be seen and the best things to do in Phuket. Read More...
Sino-Portuguese splendours and funky shops in the most unlikely places will surprise and delight you in the heart of Phuket's sleepy provincial capital. Phuket Town offers much more than you think, with some excellent restaurants and local sights. The unique blend of colonial and Chinese architecture, along with a tangible quaintness, makes for a fascinating and unforgettable afternoon spent sauntering around Phuket's Old Town. Expect the unexpected and don't forget your camera. Read More...
Simon Cabaret is probably the biggest transvestite cabaret show in Phuket. This show features a spectacular musical floor show performed by the world-famous ladyboy cast. See for yourself – guys, can you tell the difference? And ladies – wouldn't you just die for a figure like that? Fabulous costumes, glitzy and fun are found in a fancy theatre just south of Patong. Read More...
Opening Hours: Daily at 6pm, 7.30pm and 9pm
Location: 8 Sirirat Rd, Patong, Kathu, Phuket 83150, Thailand
Tel: +66 (0)87 888 6888
Phuket's tourism industry is constantly evolving to keep pace with modern trends. Nowhere is that fact clearer than with the elephant sanctuaries springing up in and around the island. The sanctuaries provide a safe escape from trekking and logging camps. They also let you interact with the gentle giants in a more ethical, animal-friendly way. If you're a responsible traveller, these places should definitely be on your list of things to do in Phuket. Read More...
Rate This Place:
( votes)