Sea kayaking around Phang Nga Bay is an amazing experience you really shouldn't miss. Discover a unique and hidden world as you weave your way through a network of brilliant crystalline limestone caves in your sturdy canoe, and reveal the mysterious hidden world of the hongs. With expert guides, you need no prior experience or expertise to be able to take this unique trip through one of the most beautiful parts of the world.
While some Phuket kayaking tours are self-paddled, others leave you with you to relax and enjoy the scenery gently cruising by as your guide does the paddling for you. This also leaves your hands free to hold your camera, so that you can take breathtaking photos of places inaccessible from the larger tour boats.
Interested in this tour? Book it here.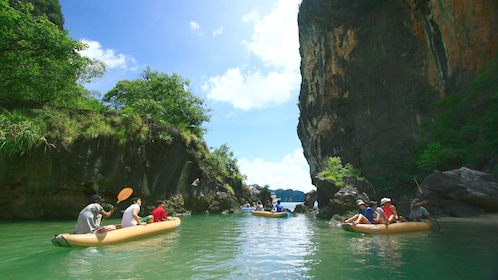 per traveler
Free cancellation
Book
What to expect from Phuket kayaking
A hong (the Thai word for a room) is actually a collapsed cave system in the interior of each island in Phang Nga Bay, only accessed by tough, purpose-designed inflatable canoes through sea caves at low tide. Open to the sky and filled with jungle flora and fauna, the hongs conceal a unique eco-system with monkeys, birds, fish and complete quiet, except for the twittering of birds.
Local operators have so far gained access to dozens of hongs between Phang Nga and Krabi to the south, which you can visit and enjoy on a Phuket kayaking trip. Each hong tends to have its own distinct character, and it's easy to spend days, even a week, visiting island after island.
When is the best time for kayaking in Phuket?
Limited numbers of people are taken out at a given time, and experienced guides accompany every boat, not just to lead the way and to provide commentary, but also to advise on ways to conserve these precious natural resources.
Although there may be a week or 2 of inclement weather every year, Phuket kayaking trips are fun virtually any time of year, even in the low season. The islands and hongs often assume a surreal beauty in the rain, and inside the caves, stalactites sparkle even more. Still, for those who like their sunshine, December to March is highly recommended.
Rate This Place:
( votes)