Phang Nga Province – right next door to Phuket – is a veritable cornucopia of wildlife, stunning scenery and adventure opportunities. Visitors to Phuket are lucky in that they can have the luxury of a beachside hotel along with easy and swift access to Phang Nga.
One tour that takes in the thrills and spills of the provinces rugged terrain offers whitewater rafting in the morning and an ATV tour in the afternoon; the best of both worlds? We went along to check it out.
Interested in this tour? Book it here.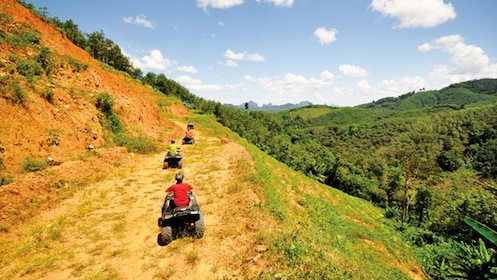 per adult
Free cancellation
Book
From Phuket to Phang Nga
Heading north out of Phuket Town's busy roads the traffic thins out until we're able to thrum along at an easy 100kph, slipping into four-wheel-drive at one point as we swoosh through some pretty mean puddles. After an hour's drive we take a sharp left at Wat Tham and all of a sudden we're in the wilds of Phang Nga with its lush greenery contrasting with the red clay soil.
There are fields of oil palms with their crazily angled fronds and bright green humidity-seeking parasite ferns growing up their trunks. Even brighter green butterflies loop the loop, swerving and swooping through the dried-out leaves of a banana tree and to one side a rubber plantation stretches on, seemingly to eternity. We cross bridges merely a car's-width across and drive with our windows wide open to savour the morning breeze.
White Water Rafting
Finally we pull into a lush parking and walk over a cable-and-wood bridge into what appears to be a landscaped garden. This is the Phang Nga River Lodge – a place where people come to get away from it all. The lodge is located right next to the Song Praek ('Two Junctions') river and man, it is wild today!
We stand there, taking it all in, then in a flash a large dinghy appears around the crook in the river and six fully grown men roar with pleasure as they careen past, narrowly missing a large rock and disappear downriver.
Our guide tells us to store our valuables and extra clothes in a locker and to follow him down to our waiting dinghy. Ouch; walking on stony paths barefoot is no joy at all and we really should have brought plastic shoes along.
Still, once at the dinghy we're soon fitted out with protective helmets and lifejackets then instructed in how best to handle the river's capricious ways.
The dinghy features clever footholds and these act as 'roots' to make sure we stay aboard.
And we're off to some of the most exhilarating 20 minutes of my life. Whooping, paddling and ducking branches as the ferocious current takes us between rocks, round precipitous corners and tries to throw us sideways.
When we finally slow down and head to the waiting car on the bank I find myself wishing it could have gone on a little longer but we did cover over four kilometres of white water madness. One thing about whitewater rafting: it makes for a tremendous appetite, so lunch, consisting of sweet n' sour fish, a huge omelette, rice, soup, chicken drumsticks and stir-fried vegetables, is wolfed down before the 30-minute drive to the ATV base.
ATV Tour
And there they are, all fuelled up and waiting for us. These are 2WD/4WD Yamaha Kodiak automatic vehicles and they look mean and ready for whatever. After a quick class in how to operate them we do a few practice turns around a nearby track and away we go.
The track follows the lip of a valley containing durian and banana farms. I must admit I've never seen a durian tree before. Durian is called the 'King of Fruits' and has an all-pervading smell that fills the afternoon air. The trees themselves are very tall and it must be quite a task for the farmers to get this spiky fruit down to harvest.
We pass one, two three farms and absolutely everyone stops to wave and smile at us. The children bounce up and down with excitement and it's like a little slice of heaven. We approach a herd of calves and edge through them. They hardly flinch, even though the ATVs' motors are pretty raucous.
River, Waterfall, Temple, Local Life
One kilometre further on we come to the rushing river. What now? Yes… after a little reconnoitering we're waved on through and this is where things get a little hairy. Hairy, but safe; 200 metres upriver we regain the track and motor on to Klong Tam – a six-storey waterfall that is fairly thundering after local rainfall.
Exotic lizards dart to and from bushes and butterflies hover over colourful bushes and plants. We enjoy some juice and fresh seasonal fruit before heading off again and climbing a track through a rubber plantation up to the higher part of the valley.
The views down to the valley bottom at four o'clock in the afternoon with the sun peeking through the clouds are simply wonderful. This, you have to see for yourself.
After passing through a few ultra-friendly villages we eventually pull into the grounds of a Buddhist temple (Wat Pa Ko) where we rest before tackling the final leg of our trek. School buses taking children home pass by – everyone waving madly at the foreigners who appear to be wearing birthday cakes on their heads. Finally we pull into the ATV compound and tuck into cheese and ham sandwiches with iced water.
It's been quite a day and, judging by the snoozes from our new-found friends in the van on the way back, it's been a pleasantly tiring one. We've seen so much that it's now down to the camera to do some visual explaining.
What to take with you
- Plastic shoes
- Dry Clothes
- Clothes you don't mind getting wet or swimming gear
- Mosquito repellant
- Sunblock
- A towel or a cloth to dry off with
Remarks: Ask your hotel if you wish to book this tour
Rate This Place:
( votes)