When other sea cave-kayak tour operators are winding down for the day, the John Gray Sea Canoe crew is just getting started.
John Gray is the godfather of sea kayaking in Thailand. He developed the 'Hong by Starlight' tour as a way to avoid crowds. A hong, in case you were wondering, is a sea cave.
Interested in this tour? Book it here.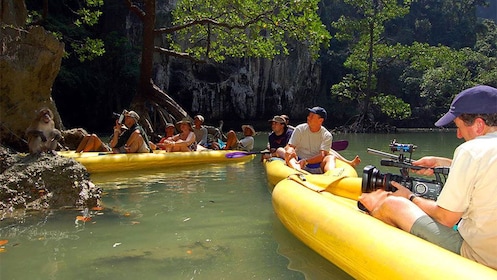 per adult
Free cancellation
Book
Light Lunch on Board
By starting later, he turns the clock back and guests get to enjoy the Phang Nga Bay of 20 years ago – serene, empty, and beautiful. The experience is memorable and unique with top-of-the-line guides, food and arrangements.
This trip is the single best way to discover Phang Nga Bay's mysterious hongs in a kayak, paddled by a guide. The boat departs from Ao Po pier in the early afternoon. Not long after, a light lunch – noodles, spring rolls, salad, fruit – is served on the centre table.
Once everyone eats their fill, the day's lead guide uses illustrations to outline the rules on this trip: keep mouths shut and cameras ready while in the hongs; have fun; respect nature. And then, right on cue, we arrive at the first hong.
Sea Eagles
A guide flings bits of chicken guts into the sea behind the boat. Scavenging red-backed sea eagles can't resist, often catching the free snacks midair. White-bellied sea eagles aren't strictly scavengers, but don't mind the occasional handout.
And with a killer talon-and-bill combination attached to a two-metre (6.5 feet) wingspan, nobody is going to challenge them.
The airborne escort, courtesy of the Accipitridae family, follow the boat to the first hong and dissipates into the jungle trees far overhead.
Well-Trained Guides
A genial chap called Beer is my designated kayak driver. Throughout the day, Beer flashes his environmental knowledge as he paddles the custom-built watercraft from one sight to the next.
Mangrove Hong, Diamond Cave, Bat Cave – the names are telling in themselves. In a hushed voice, he pours out geological explanations, previous wildlife sightings, conservation challenges, habitat facts, jokes (this is, after all, Thailand). Informative tidbits pour from him like he's been doing this for years and in fact he has – for six years, in fact.
Beer is not alone in his awareness; John Gray ensures all of his guides are well educated. The bay is their office and product; they know it and respect it. But their smarts don't end there. With lifeguard, CPR, and swimming training, they are prepared for anything – an obvious precaution that others often overlook. Every guide knows the tides, currents, and what makes for safe paddling. Not every kayak operation can make that claim.
In the Hong
As amazing as the staff is, the bay is still the star. Its skyline is dotted with islands whose sheer jungle-clad walls are more like imposing fortresses than welcoming landing spots. They rise directly out of the bay's waters, reminiscent of a near successful attempt to drown an entire mountain range.
Water erosion has sculpted – and is still sculpting – the rock into logic-defying formations that appear to defy gravity. It's all like a frozen lava lamp, but far more hypnotic. Getting into the hongs is usually a simple matter: guides paddle through a dark cavern while guests handle flashlight duties.
But it's not always that easy. Depending on the tide, the space between the water and ceiling can be cosy. Lying in the kayak I make myself as flat as possible, I'm almost cross-eyed watching the shell-encrusted rock pass disturbingly close to the tip of my quivering nose. It only lasts a minute, and soon we emerge, unscathed and sitting upright, into the hong's brilliant sunlight.
Another World
A hong is a chamber in a karst island's interior, cave-like but roofless, round in shape, with high vertical walls. The dense vegetation paints every surface green. Trees sprout from the cliffs, their roots looking like they might tire of gripping the rock at any moment.
Mudskippers and crabs play in the shallows. Hornbills scream. Monkeys occasionally appear, begging for handouts (thankfully without success on the John Gray trips). And guests, in total silence and without creating barely a ripple, enjoy the awe-inspiring, neck-bending wonders of these majestic rooms.
After an afternoon of hong-gazing, we return to the boat to wait for darkness. We had time to kill – two hours worth – and the storm clouds that had previously been threatening are delivering. In dry weather, guests would be in the water kayaking, swimming, and getting wet. But it's raining, so all but the most intrepid stay dry under the canopy, swapping travel tips, engaging in an impromptu television trivia quiz, and building krathongs (small symbolic Thai floats) with the guides.
Floating Kratongs
Loy Krathong is, without a doubt, the most beautiful Thai festival. Small floating decorations are set adrift en masse as a sign of new beginnings and for good luck.
John Gray Sea Canoe recreates the ceremony on every 'Hong by Starlight' trip – yet another original, thoughtful touch. Guides lead guests in making the krathong, explaining each element as it is pinned to the banana stalk base: banana leaves for decoration, marigolds for prosperity, one incense stick each for Buddha, monks, and the Buddhist scriptures, and candles for health and happiness.
Then it was off to the final cave of the evening. The caver's motto states "Take nothing but pictures, leave nothing but footprints, kill nothing but time." On John Gray's trip, plenty of pictures are taken, but not even footprints are left behind.
Remarks: Ask your hotel if you wish to book this tour
Hong by Starlight Short VDO
Rate This Place:
( votes)