Phang Nga Bay covers an area of 400 square kilometres and is home to some 100 islands, many of which could be entered for The Guinness Book of Records either for their beauty or for their freakish shapes.
The bizarre, why-doesn't-it-fall-over outline of Koh Tapu, next to James Bond Island or Koh Ping Ghan, has been a major draw ever since it featured in 1974's Bond movie, The Man with the Golden Gun in which it was a fiendish 'solar harvester'.
Northern Phang Nga Bay is also home to some wonderful sea caves that lead into the centre of its many karsts – collapsed limestone islands with a lagoon in their centre. The result of 280 million years' of erosion, the karsts are also home to macaques, hornbills, sea eagles and several exotic species of lizard and marine life. We booked a day tour to see these wonderful sights.
Interested in this tour? Book it here.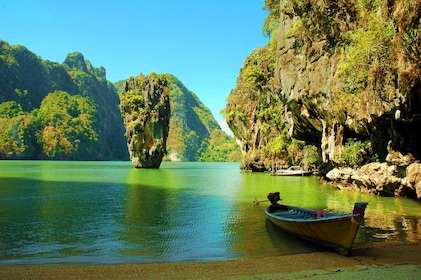 per traveler
Free cancellation
Book
Strange Bedfellows
The resulting mixed bill of James Bond and Mother Nature is a heady one, and one we set out to explore on a balmy morning from Laem Sai (Sandy Cape) on Phuket's east coast. The cosmopolitan crowd at the pier chats away in Arabic, Norwegian, Dutch and lots of other languages. Once aboard our ship Tuk, our tour leader, fills in the details of the day's itinerary. He explains that these tours are only possible at mid-tide, as at high-tide sea kayaks cannot enter or pass through the caves to the islands' central lagoons.
At low tide the lagoons are reduced to mud. This means that tours vary in their running order in relation to tides and lunar influence while destinations essentially remain the same. Today we're to visit Bat Cave, Hong Island, James Bond Island and spend some time on Lawa Island. "One million per cent you're going to get your bum wet today," Tuk laughs. A tip: Even though this tour hands out plastic bags to protect your camera it really is best to bring along a snap-shut waterproof camera bag.
Going Batty
Some 30 minutes later we drop anchor outside our first destination – Bat Cave. As there's no aquatic Batmobile moored outside the sheer cliff wall, we assume that the great man is out. We are assigned guides – one to every couple – and before long are being paddled towards the mouth of the cave.
It's all very leisurely in these sea kayaks with hardly any swell at all. Once inside, we turn on torches (although I get the impression that Pon, our guide, could do this blindfolded) and scrutinize the black furry creatures hanging upside down from the ceiling.
One thing I learn is this: bats stink. The cave fairly reeks of sulphur, humidity, dragon's breath and bad gas but there's only 200 metres to negotiate and pretty soon we enter the island's 'hong', or room.
In a Phang Nga Cave
Way above, a couple of sea eagles flutter and fidget in the branches of a precariously rooted tree and halfway up the cliff stands a palm tree – a sight that poses a lot of questions, like how did the coconut get up there in the first place? "No monkeys today," observes Pon, and then demonstrates just how shallow the water is with his oar. It's two foot deep.
A leisurely paddle around the hong ensues, as Pon points out various oddly shaped rocks, a dead snake being eaten by a crab and the marvelous lush vegetation. The silence is surreal and it's as if time has stood still here. After 30 minutes we head back to our 'mother ship'.
Hanging Out in a Hong
Hong Island is aptly named ('hong' means 'room' in English) and is easier to access than Bat Cave as we have no need of torches and the hong has several large entrances. Inside, an extremely relaxed gentleman sitting on a deckchair snaps us as we drift by. Maybe he just likes taking photos of people.
A speedboat growls and snarls through, its enraptured passengers gazing at the outcrops and vegetation sprouting from the cliff sides. By now, we've grown to know our guides and the whole atmosphere of the tour is much more relaxed. On the way up to James Bond Island two of the guides make colourful and intricately fashioned flowers out of drinking straws then hand them out as gifts: nice touch.
Hitting the Nail
On arrival, we leave the mother ship and paddle to the island's west side then, after leaving our kayaks on the sandy beach, negotiate a steep, winding and at times awkward path round to the west side where Koh Tapu (Nail Island) stands in open defiance to the laws of gravity. It's 600 feet high and after Phromthep Cape in Phuket, is probably the most photographed location in the region.
There are people taking photos of friends in front of it, people snapping shots of the beach, people photographing people taking photos of people and people asking people to take photos of them with the island in the background. To the side there are vendors selling shells, postcards, sharks' teeth necklaces, more shells and everything you feel like buying on holiday but can't use at home. To add to the carnival-like atmosphere, the air is pungent with aroma of grilled squid. In short, it's a long way from the cathedral-like serenity of the hongs.
Lunch!
We've all built up a mighty hunger by this time so the onboard buffet lunch is more than welcome.
Featuring deep-fried and battered tempura, fried rice, mixed veggie and fish dishes, chicken soup, sweet n' sour whole fish – it's as much feast for the eyes as for the stomach.
Motoring through some of the most beautiful maritime scenery in the world does wonders for the appetite, I assure you.
Lawa Island
It's a one-hour stint back to Lawa Island during which our guides perform legerdemain and more 'straw' flowers are created and handed out. 'Lawa' is Malaysian for 'pretty' and all the tour boats in the area converge at this point, making it 'pretty' busy.
Tuk tells us to stick to the northern part of the beach if we want to swim as there are sharp rocks at the southern end. We pass an hour lolling in the shade, wallowing in the warm water and watching a high-powered beach football game before heading back to Laem Sai. It's been a great day out but the most impressive experience by far was the silence and serenity of Phang Nga Bay's hongs.
Day tours offer a minivan service that picks you up from your hotel. Our pick up time was 07:30 and we were at the pier by 09:00 after having passed by other hotels to pick guests up. We were back at Laem Sai by four o'clock.
Rate This Place:
( votes)