There are not too many people in the world who would choose to call themselves "Ling Yai" - Thai for Big Monkey - or have their employees refer to them by that name. But John Gray is proud of the nickname.
He signs off his emails with it, even adding another nickname, "Caveman", which was given to him by fellow runners in the Hash House Harriers. So John Gray is an unusual man. He's also fascinating to talk with - a passionate, 24/7 environmental activist with a sense of humor to match his sense of mission.
Interested in this tour? Book it here.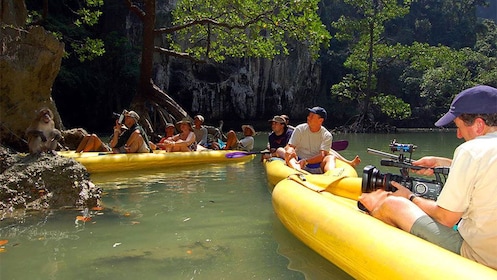 per adult
Free cancellation
Book
Been there, Done that
Born John Charles Gray in 1945, Ling Yai was raised by parents who were members of the Sierra Club, American's oldest and largest environmental organization. He was Scuba-certified at the age of 12 and became a certified lifeguard three years later. He graduated from the University of California at Los Angeles as an academic scholarship student in international relations and film production. Out of the classroom he developed a passion for rugby and - like many California children growing up near the sea - he loved swimming and later grew to love sea kayaking as well. He worked as a newspaper journalist and editor; as Director of Communications, Pacific Basin, for the National Cancer Institute; and in a variety of consulting roles. He was a high-flier. "When I left all my fancy lifestyle as a successful executive behind me and chose instead to do kayaking in Hawaii as a new career, people thought I was crazy," he says.
But as with everything else he had done up to that time, John Gray turned kayaking into a success. He also used his education to conceive of and star in the award-winning documentary, Moloka'i's Forgotten Frontier. He went on to produce a TV series for Hawaii's travel channel and was a guest lecturer in many universities.
Paddle Power
"There were two reasons I picked sea kayaking [as a business]," Mr Gray explains. "I have experience with the ocean and there are no motors involved in kayaking." Before relocating to Thailand in 1989, he spend four years learning about the country. He learned about the beautiful limestone caves of Phang Nga - before even visiting the country.
"When I arrived and saw Southern Thailand, it was exactly what I expected. It was perfect," he says. He discovered the amazing hongs (inland lagoons) which do not exit in Hawaii, and then opened Sea Canoe, using charm and fun to educate people both locals and tourists in caring for nature and taking eco-tourism on Phuket to next heights.
His work with the first company won six eco-tourism awards. Unfortunately, the relationship between the principals in the company went sour. He bailed out and, in 2001, started all over again, this time calling his company John Gray's Sea Canoe.
Like any successful business, his kayaking tours have been copied by many others, which has forced him to amend the way he does things. For example, he says, "To avoid the crowds, we don't do morning trips. Instead, I've created a new thing called 'Hong by Starlight'." He adds, "There are things that one can't copy: top quality service, experience with the ocean, and creativity."
Spirituality
Clients of John Gray's Sea Canoe come from all over the world. In Phuket they stay in places ranging from the Amanpuri (USD635 a night) to the On On Hotel (USD7.50 a night). "When humans like us go inside a hong, the place has a spiritual effect on us. I've seen arrogant people with big egos go into a hong and come out feeling very small (after confronting the majesty of nature.) For me, going into a hong is similar to going into a temple or mosque. You have to go in with respect and be on your best behaviour. "When we go into a hong, we keep quiet and we touch nothing. We paddle in to learn about nature. We don't even leave footprints. We leave nothing and we take nothing but special memories," says Mr Gray.
At the age of 62, Mr Gray says he is only "halfway through". "I want to do many more things. I'm interested in media; I'll do multimedia as my next project." He has always written and taken pictures - both still and video, and his next project, he says, will combine all three. Will there be a connection to the environment? Something tells us there will be.
Rate This Place:
( votes)