Koh Khai Nok is a small island tucked away in Phang Nga Bay. It's only 30 minutes or so away from the east coast of Phuket but ask anyone on the island if they've been there and you will probably draw a blank stare.
Still, a hidden gem is sometimes all the more precious for being so and when we discovered a half day tour was going there we leapt at the opportunity to try it out.
It's a sunny morning at Royal Phuket Marina. Inside one of the side offices a large LCD TV shows previews of tours in Phang Nga Bay and the smell of fresh coffee wafts in the breeze. Souvenirs and candies are stacked high and above the cheerful din Cooper, our guide, informs us that it's time to move out. We traipse past multi-million dollar cruising yachts, powerful speedboats and an antique wooden rice barge to our double-engine speedboat.
Interested in this tour? Book it here.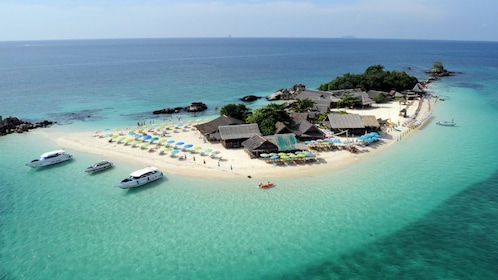 per adult
Free cancellation
Book
Getting to Koh Khai
The sea's a little choppy today and Cooper explains that it's normally a 30-minute ride to Koh Khai but today it'll take a little longer. We bounce along into Sapan Bay and out on the high tide, heading southeast. Over to the north lies beautiful Rang Yai Island with its Pearl Farm and looking back we can see the radio masts and hills overlooking Phuket Town.
It's not long before the distinctive shape of Koh Khai Nok (Egg Island) appears but first we skirt by Koh Khai Nui – the island's smaller neighbour. Cooper announces that we won't stop here right away but will come back later when the water's calmer.
Koh Khai Nok
Off we pile onto Koh Khai Nok, a small triangular island about the size of a large football pitch comprising a rocky headland and a snow-white beach. One special characteristic of Koh Khai Nok is that it has at least twelve types of exotic tropical fish and they aren't afraid of humans. As a result a lot of people are swimming through them with people taking photos of them.
Still, there are three types of people in this world: Those who don mask, snorkel and fins and get in with the fish and coral; those who head for the free sandwiches and soft drinks, rest a bit then get in with the fishies, and finally those who wrap a sarong around their head, clamber into a deck chair under the shade of a parasol and take in the colourful surroundings. Because of the photo opportunities there are more cameras on Koh Khai Nok than on Oscar night. There are people taking photos of people taking photos. It's a classic poise that takes in you, the beautiful turquoise water stretching out behind, with tropical fish swimming through your legs.
On the northern shore – only 200 metres away – the parasols are snapping and fluttering in the deliciously cool afternoon breeze.
Here, the water is indigo-blue with plenty of shade. A stroll down this side of the island reveals quite a few people relaxing in the rocky shade as well as a few yachts at anchor.
In the Middle
Koh Khai Nok has a lot to offer, despite its relatively small size. In the centre of the island stands a series of interconnecting stalls and restaurants selling everything from T-shirts to sarongs to handicraft souvenirs.
There is even a small dive shop with remarkably reasonable prices. This part of the island has a bazaar-like atmosphere and it's also a shady place to hang out.
Heading 'Home'
At 14:40 we board our speedboat once more and cross over to Koh Khai Nui, stopping just by a particularly fertile coral bed. The coral here resembles up-stretched fingers and is truly fascinating to see, especially in the rich afternoon sunlight.
Twenty minutes later we are once more on board and the trip back to Royal Phuket Marina is over in minutes, due to the smooth sea. It's been a wonderful afternoon and one full of sights you'll never see anywhere else.
Rate This Place:
( votes)