Visiting Koh Panyee - The sky is clear and the breeze is warm. It is a perfect day to go on a boat trip. We are on Phang Nga Bay and heading for the famous Koh Panyee. Koh Panyee is about 20 minutes by long-tail boat from Surakul pier in Phang Nga province.
Many people flying into Phuket will have looked down on this village seemingly floating in the magical bay and wondered what it is like to live in the place. Phuket.com went out to Panyee to take a look and discovered the true meaning of the phrase, 'a simple life'.
Interested in this tour? Book it here.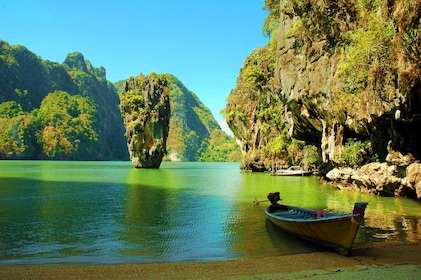 per traveler
Free cancellation
Book
The Villagers
There are 1,485 people from 315 families who live permanently on Koh Panyee, the youngest being a baby boy born just a month before our visit. All of them are the descendants, directly or indirectly, of Toh Baboo and his family and friends, who were the first people to settle on Koh Panyee some 200 years ago.
Toh Baboo and two other families left their homeland in Indonesia by boat, looking for a new place to live. The three families made a vow to each other that if one of them found a place where there were lots of fish and where everyone could live, that they would signal the others by raising a flag on a mountain as high as possible, so that the others could see it and join them.
Toh Baboo discovered the island with its abundance of fish and, true to his promise, raised a flag atop its soaring cliff, That is how the island got its name, Koh Panyee – the Island of the Flag.
What to See in Koh Panyee?
Koh Panyee is a small island. Most of it is huge, almost vertical, limestone cliffs. The hundreds of huts, shacks, restaurants and houses where the villagers live are built on stilts over the surrounding shallow sea. No one seems quite sure how many wooden and concrete piles hold up this extraordinary community, but it is certainly a fascinating and unique feat of informal engineering.
At first, fishing was the sole industry for this Muslim community but nowadays it is No 2. These days, half the locals service the tourism industry and 40% are still fisherman.
The village has its own school, a mosque, a health center, lots of small souvenir shops and a handful of large restaurants, all facing the sea, where tourists can enjoy a fresh seafood lunch. The latest development on Koh Panyee is the construction of bungalows that offer overnight accommodation for as little as 300 baht.
A Colorful Life
On landing one is immediately struck by how very friendly these village folk are. I find myself with three young guides almost as soon as I step ashore. They show me proudly around their home during my three-hour visit. I also learn a bit about their colorful life on Panyee.
"We are very lucky that we born not long ago," 11-year-old Farrain tells me. "The old people say that life was tough without electricity, fresh water from the mainland and new technology." School is out for summer, so the kids have plenty of time to wander around, play computer games (yes, the island has Internet access), help their parents mind the shop or play soccer.
I asked them what they do in the rainy season. Doesn't it get boring not being able to play outside? "Who says that?" retorts eight-year-old Anwar. "We always play football in the rain. It is normal to get wet around here." Of course it is. Silly me.
School Holiday
The 13 teachers at the school work hard to educate their 200 pupils, and have launched a number of projects to keep them busy, to make money for the school and to increase environmental awareness. One such activity is a recycling programme whereby bottles and cans are collected and sold to the benefit of the school while also keeping the village cleaner.
The teachers are also educating their students in growing vegetables using hydroponics. My third guide, 10-year-old Romadon, invites me to help him sell edible morning glory fresh from the school's hydroponic farm. The popular vegateble sells quickly – most adults open their wallets right away to support the school. And besides, the vegetables are inexpensive – just 40 baht a kilo.
Just like kids anywhere in the world, my three guides have dreams of what they are going to be when they grow up. Farrain wants to be a tour guide, Anwar wants to be a soccer star and Romadon plans to be a doctor. But whatever they do in the future, they certainly seem very happy with their life on the Island of the Flag.
What to Wear?
This is a Muslim community so women should not wear short skirts or shorts. T-shirts and jeans are acceptable but anything that exposes too much flesh risks a cold shoulder from the locals.
Did You Know?
a) Electricity costs more than six times as much on Koh Panyee as it does in Phuket City.
b) There is only one policeman on the island, who has very little to do. Good news indeed for everyone.

How to Get to Koh Panyee?
You can rent a long-tail boat from Surakul pier for around 1,700 baht for three hours. The boat can carry up to ten people – so if you fill it up that's just 170 baht a head.
Alternatively, there are many good tours to Panyee which include pick-up from your hotel.
Rate This Place:
( votes)