Phang Nga Bay is a wonderful place to explore – there's just so much to see there, from moody limestone crags jutting out of the water to tropical flora and fauna you've only seen before on Discovery Channel.
In order to fully appreciate this wonder of nature it's really best to go organised with a tour that anticipates tide levels (very important in this area) and weather conditions along with a fully equipped boat and competent crew. Welcome to the Laguna Phang Nga Bay Tour.
This is the life. The sun is peeping through the clouds in the east, cocks are crowing nearby and here we sit, waiting for the rest of our tour members to arrive. Minutes later we're boarding a 39-foot twin-engine speedboat and Sin, our guide, ("Yes, I know what my name means in English") explains the day's itinerary. Apparently, we're to change things around due to the low tide that morning so it's immediately off to Koh Kai for some snorkelling.
Interested in this tour? Book it here.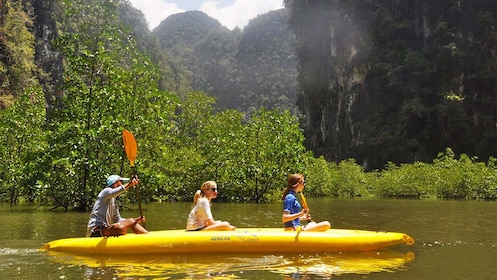 per adult
Free cancellation
Book
Koh Kai Noi
The double kick of the boat's two 250hp engines is exhilarating once we hit the open sea and get up to 32 knots an hour. "Champagne? Whiskey? Rum?" Sin teases, "I don't have any, but make sure you put plenty of sun cream on or by five o'clock you'll be looking like a Phuket lobster."
We help ourselves to soft drinks and watch Koh Kai Noi, a tiny coral-surrounded island, loom larger on the horizon. Here, there's marvelous snorkelling and among the parrot and clown fish I spy two furtive-looking young barracuda.
The untouched coral at this location is striking and even the sea urchins look a little less threatening than normal. Two nice touches are a) an extendable shower hose for rinsing off as we clamber back onboard and b) fabulous chocolate muffins washed down with fresh fruit juice after drying off.
Silly Hats and Beer – James Bond Island
Now it's time for a 35-minute jaunt up to James Bond Island or Koh Tapu ('Nail Island') so called by the locals because of its unusual vertical shape. This location, the backdrop to 1974's 'The Man with the Golden Gun', has got to be up there with Phuket's Phromthep Cape and racy Soi Bangla as the most-photographed spot in the region and, true to form, all cameras are trained on the rock as we clamber down the stony incline that leads us from the beach to the bazaar-like atmosphere of this viewpoint. Here's where to buy shell necklaces, concertinas of postcards (does anyone send them anymore?), silly hats and expensive beer.
James Bond Island startles at first sight but still surprises after many visits whereas Phang Nga Bay itself is just gorgeous and a cornucopia of bird and sea life. Many of the bay's limestone islands have collapsed inward, creating a Lost Horizon-like wildlife sanctuary inside the interiors – undisturbed by the outside world and protected from extreme weather.
Lunch
Next stop is the Muslim village of Pan Yee where lunch awaits. Pan Yee is a wooden village on stilts in the water attached to an enormous rock.
On the south side is a line of large seafood restaurants and after disembarking Sin leads us into one where we are served fried rice, delicious curried chicken, deep-fried chicken legs, prawns, grilled snapper steaks, French fries, tuna, tom yam poo (spicy crab soup) and lots of fresh fruit.
Fabulous stuff.
Hongs, Kayaks and Black Crabs
After an hour of rest time (and we need it after that huge lunch, believe me) we clamber on board and zoom off to a location to explore the sea caves and interior of the karsts – the collapsed islands – but Sin is not satisfied with the first location we arrive at… he says there are too many people there.
He wants us to experience this unforgettable moment in quieter surroundings so after sweeping past several kilometres of shocking-green mangrove forests overlooked by the giant limestone monoliths of the bay, we arrive at a beautifully isolated spot where we rendezvous with a group of men with brightly coloured kayaks.
Three to a kayak, we glide off and enter a world of sudden bursts of sunlight interspersed with the cool, damp air of the caves and 'hongs' – the interior of the islands. Our guide explains that local macaque monkeys are not only good swimmers but expert fishermen, too. There's a lot to be seen here – rocks in strange, animal-like shapes, walls glistening with black crabs, and the auditory experience is totally alien; the slap of the gentle tide on the kayak, the far-off hoot of a monkey, or is it an owl?
After a truly fascinating hour we once more board the speedboat, wave goodbye to our kayak guides then head south to Naka Yai Island where on the shore there's a bar playing reggae tunes and the beer is icy-cold. Fellow Phang Nga Bay explorers rent deckchairs, crack open a cold one and sample pure, unadulterated relaxation.
From Naka Yai it's a ten-minute zoom back to Ao Po Grand Marina. It's been a great day out but with several differences – the service has been impeccable, right down to the standard of driving, anticipating needs and initiative shown by the crew members. Everything is spanking new – equipment, van, boat, uniforms and it makes a super change from the sometimes happy-go-lucky other Phang Nga tours.
Rate This Place:
( votes)