The Phi Phi islands have been constantly singled out over the years as some of the world's most beautiful islands and rightly so. The waters surrounding Phi Phi are the most luscious turquoise imaginable and teem with thousands of exotically coloured fish.
The islands lie 48km Southeast of Phuket and this translates as roughly one hour 20 minutes, in ferry-speak. Several companies operate day ferries and the crossing is a relaxed affair, with free coffee, tea and biscuits to nibble on as the ship ploughs through the sea towards the world-famous destination.
Interested in this tour? Book it here.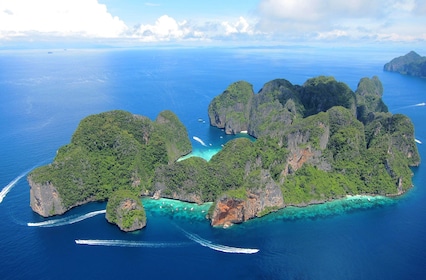 per adult
Free cancellation
Book
Phuket's Ratsada Port at half-past eight in the morning is everything you have ever imagined the Far East to be: horns beeping, sailors helping people on board, passengers of every hue and size, and it's all very much like a scene from an Indiana Jones movie.
Luckily, there's a semblance of organization and it isn't long before we locate the Sea Angel tour desk and are boarding Sea Angel 2 – a fair-sized, three-deck ferry.
Sea Angel 2 fairly skips along as we choose seats on the middle deck under cover by the café. More hardy souls sprawl out on the top deck while others opt for the air-conditioned, lower all-seater deck. Before long we encounter a squall coming in from the west but it doesn't last for long and soon the decks are steaming under the morning sun and everyone is back to where they were.
Soon, the distinctive shapes of Phi Phi Don and Phi Phi Leh loom ahead in the distance. We steam into west side of Phi Phi Don, at the colourful port of Tonsai Village, where ongoing passengers disembark at the pier, leaving the ship much less crowded. The first impression of Phi Phi Don gives is, "How can a place be as beautiful as this?" Green hills frame the narrow isthmus that joins the two 'dumb bells' as people like to describe it. And the fish! – there are thousands of them coming up in fluorescent shoals to nibble at bread thrown down by tourists.
With an ear-splitting hoot from the ship's klaxon we're off again to Phi Phi Leh, a striking uninhabited island jutting out of the sea to the west of Phi Phi Don. The ship's speakers crackle into life and we're told by a girl with a comically mangled accent that it's soon time to snorkel for an hour at Ao Ling, or Monkey Bay. (Mask and snorkel free of charge. Rental fins 100 baht, replacement of lost mask and snorkel 1,000 baht.)
But first we go to Hollywood. That is, we pass by Maya Bay where The Beach was shot back in 1999. The sand looks impossibly white from where we are but our ship passes this glorious sight by as we're on a mission and soon here we are at Ao Ling. On the beach, monkeys do their thing while we don swimming gear and masks. Thousands and thousands of multicoloured fish teem in the waters below and show no fear as we slip into the sea to gaze at the beautiful coral and marine life. This is a fabulous experience and not to be missed. Passengers throw entire loaves into the sea and they're devoured in minutes… by the fish – not us. These must be some of the best-fed clown anenome, rainbow and labyrinth fish in the Andaman.
After an unforgettable hour of sporting with the local marine population we head back to Tonsai for lunch (included in the price of the tour). Phi Phi Don has been rebuilt since the tsunami and as a result is now a much less cluttered place. We eat under an elegant giant white canopy at the Phi Phi Princess Hotel and the breeze on the Loh Dalum side of the island is nothing short of delicious, along with the buffet lunch, of course.
The best thing about buffets is that you can mix and match to your heart's content. Spaghetti and chicken drumsticks with bolognaise sauce over it? Sure, and no one is fazed; in fact a few people get a lot weirder than me. The beach at Loh Dalum is merely steps away and that's where we spend the next hour, lazing in the shade with brief forays into the shallow water until it's time to head back to our Sea Angel.
Following our marine-themed exertion and lunch we're all a little in need of a nap on the way back but personally speaking the view from the top deck is too good to miss. A light cloud cover and factor-30 sun lotion along with a sarong to wrap up in ensure that we're not fried by the afternoon sun. Ahead, in the shimmering distance, a post-apocalyptic cloud formation boils and writhes over Phuket.
Suddenly, a school of barracuda skims past on the water surface and there's magic in the air. Behind us, a husband turns to his wife and says, "Honey, let's remember this moment when we're back home, feeling cold and bored." There's nothing quite like a day out to paradise.
Sea Angel 2 docked at twenty-past four and the crew implemented a clever two-way system to help us all disembark and get to our waiting pick up minivans for the ride back to the hotel.
Rate This Place:
( votes)