The Phi Phi islands are some of the most idyllic, postcard-perfect islands in the world. The recipe is all there: nodding palms, white sandy beaches, plentiful coral and crystal-clear water.
Add to this warm and friendly people, lots of sunshine, blue skies and striking limestone cliffs as well as attractive accommodation and you get something approaching tropical perfection.
Interested in this tour? Book it here.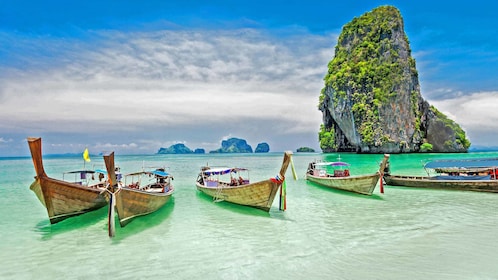 per adult
Free cancellation
Book
Phi Phi Beaches & Islands
The two best-known islands in this gorgeous six-island, 42sqkm ensemble are Phi Phi Don and Phi Phi Leh, the latter being uninhabited but a hugely popular day tour destination because of Maya Bay – the location of the 1999 shooting of The Beach and Viking Cave.
Phi Phi's four other smaller islands are Bamboo and Mosquito islands along with Kho Bida Nok and Kho Bida Nai. Transportation on Phi Phi Don is restricted to bicycles and motorized land transportation only exists at some of the larger resorts to deliver laundry and to haul heavy items.
Phi Phi Don
Phi Phi Don Island is by far and away the busiest and most developed in the group. There are many hotels and guesthouses here and many are in magically beautiful locations.
Come midday, day tours and ferries line the bay, creating quite a bustle as visitors disembark for lunch and a wander around the isthmus for a look at the many shops selling a fascinating variety of goods.
Accommodation in Phi Phi
Tonsai and Loh Dalum hotels tend to be busy and exciting places to stay due to the vibrancy of Tonsai Village (Phi Phi Cabana, Phi Phi Casita, Phi Phi Hotel), whereas the hotels a little further out are more peaceful (see Bayview & Arayaburi Resort review).
Most of the accommodation on Phi Phi is beach bungalows, many of which are mere steps from the turquoise sea.
On the east coast, things get even more tranquil and boat transport is needed to get around, here there are few restaurants and no nightlife, time almost stands still (see Holiday Inn Phi Phi Resort review).
Wherever you stay in Phi Phi you are guaranteed splendid vistas and some of the most beautiful beaches in the world, amazing snorkeling in warm tropical seas can be found right next to your beach bungalow.

Phi Phi Attractions
Many visitors take advantage of the island's 21 dive shops and go out to explore the 50 or so dive sites (see diving in Phi Phi review) in the area while beachgoers discover the wonders of snorkeling in these waters.
Others charter boats and go fishing in the fertile surrounds while still others trek up to the island's viewpoint to take in the fabulous azure-and-green world-famous vista.
Loh Dalum
This beach has some of the best snorkeling around and amazingly warm clear water. Renting a kayak here is a good option as there is so much to explore, including Monkey Bay a few minutes paddle away.
Parasailing in a setting like this is an unparalleled experience and if you slow down enough on the beach itself you will hear an unusual amount of clear and strong bird song.
Beachside cocktails or dining never tasted better.

Nightlife in Phi Phi
By early evening the ferry boats have gone, taking the day visitors with them and the island gears up for the evening's entertainment.
Beachside restaurants featuring ice-laden fresh seafood displays turn their lights on and the island's many bars and restaurants prepare for the wave of night revelers.
Partiers stock up on 'buckets' – comprising a small bottle of spirits, Red Bull energy drink and ice while others stick to the many beers on offer.
Live music fills the night air and you can even join in with a bout of Thai boxing at the Reggae Bar in Tonsai Village or fire dancing in Loh Dalum.

Rate This Place:
( votes)