Phi Phi Island is one of the most beautiful in the world. It's a place that you have to see to believe as the 'colourometer' has gone off the scale there, with its fabulously turquoise-and-blue waters, its rugged limestone cliffs and the luscious green of its jungle and flora.
There are daily tours operating from Phuket, arriving on the island at 09:45 and departing at 14:30 with swimming, kayaking and snorkeling activities as well as a buffet lunch but an even more interesting combination is a one-night stopover.
Let's face it; such a beautiful destination deserves a longer and more detailed look at it and the one-night stopover option is the ideal way to enjoy both Phuket and Phi Phi.
Interested in this tour? Book it here.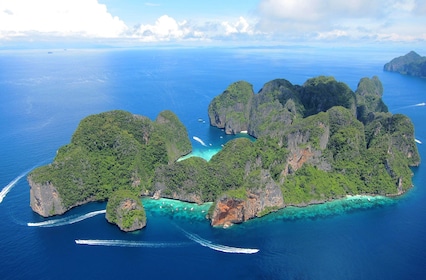 per adult
Free cancellation
Book
Getting Away
Rassada Port is the main nautical gateway out to the many islands around Phuket and to say it's busy at 08:30am would be understating things a bit. However, we're soon underway and the bustling port is growing smaller and smaller as we look sternward.
It's a beautiful morning and there's nary a cloud in the sky. Like a human centrifuge, all the Asian passengers seek out shady spots while the Caucasians head for the sun chairs and upstairs deck. Still, who can blame them? Back home in Europe at this time of day they'd be scraping snow and ice off their car windscreen – might as well grab some rays while you can…
The ferry features three air-conditioned rooms, a top sun deck and a shaded area adjacent to the free coffee and tea bar.
Our guide works the crowd, explaining the day's itinerary and the whole boat is a hive of activity with people in funny hats clambering up and down stairs and queuing up for drinks and snacks.
Still, it only seems like mere minutes later that we're leaning over the side railings contemplating the distinctive shape of Phi Phi Don up ahead. In fact, Phi Phi is 48km from Phuket and the trip takes 80 minutes in all.
Tonsai Bay
We steam directly into beautiful Tonsai Bay where passengers for Krabi disembark and the tannoy announces that we're to stay on board as our next destination is to be Maya Bay over on Phi Phi Leh.
The stay-aboard passengers lean over the railings oohing and aahing at the thousands of fish teeming below in the water.
As we pull out a girl comes around selling sliced loaves of white bread for 20 baht. "I'm not hungry" I tell her, but she laughs and says it's for the fish in Maya.
Phi Phi Leh
Phi Phi Leh is uninhabited and a lot smaller than Phi Phi Don but its rugged beauty is unforgettably distinctive. The island has crags and cliffs rising vertically out of the turquoise water and vegetation and scrub clings precariously to its limestone face. Maya Bay should be familiar to any moviegoer, or at least anyone who saw 'The Beach' – filmed here in 1999.
Our ferry is too large to actually sail into the beach itself so we stay a few hundred metres out and don snorkeling gear. Once the first loaf is thrown into the water we see why the bread was for sale: the fish go into a feeding frenzy and all of a sudden the azure waters are churning with several species of tropical fish having their second breakfast of the day.
And the snorkeling is divine. Maya Bay has pretty groovy coral to gaze at but without doubt the fish are the stars of this sub-aquatic show. A guide perched on a red sea kayak shepherds wayward snorkelers back into the fold while people plop into the water off the stern.
Climbing back on board people relate what they have seen, "I saw an octopus," says one snorkeler, toweling off, but before anyone can reply, the ship's tannoy crackles into life with the now familiar singsong tones of the lady who expertly strangles the Queen's English, much to the amusement of several passengers.
Back at Phi Phi Don, the ship pulls up alongside a smaller vessel and we all pile in, bags and all. Basically, if it's high tide the beach is submerged but we've come at low tide and there are several long tailed macaques clowning around and generally behaving like animals in the trees by the beach. Our new boat features 25 sea kayaks and we are invited to take them and explore the area but several people opt to don lifejackets and lazily float and scull into shore. This tour allows plenty of time for kayaking – some 40 minutes – so there's no rush or pushing involved.
Lunch
We dock at Tonsai and walk through the narrow part of Phi Phi to the opposite shore. This is Loh Dalum Bay, where the deliciously turquoise and blue waters stretch out for what seem like kilometres.
It really is everyone's idea of how beautiful Southern Thailand can be in the flesh. The bay's a busy place too – banana boats skim around, kayaks abound and people explore its perimeters with snorkeling gear.
We're all ushered in to an open-air restaurant underneath large elegant canvas covers and tuck into a delicious buffet.
Stopover
On a day tour to Phi Phi the ferry leaves for Phuket at 2:30pm but we've opted for the overnight choice so we have a whole day on the island stretched out before us and it feels wonderful.
After lunch we stroll to our hotel in Tonsai Bay and check in. Phi Phi Don has a lot to offer in the way of activities but there's only one thing we feel like doing now and that's sleeping.
It's been a corker of a morning and lunch has put us in siesta mode.
Shopping and Dining Out
At five o'clock we venture out and wander through the bazaar-like streets. There's everything for sale here from jewelry to beachwear to souvenirs. We even see a place to hire a guitar for the evening! Read more about shopping in Phi Phi.
The dining out options on Phi Phi are as broad as you make them: beachside dining is a good way to go and Tonsai Bay's eastern end has a long strip of good-quality seafood restaurants right on the sand.
Nightlife
At night Phi Phi Don morphs from a bustling tourist destination to a cool place to go out in. Everything is new and in good condition due to 2004's little hiccup and the place is all the better for it. The beach itself is a good place to start off the evening with bars offering attractions such as half-moon parties, fire dancing routines, happy hours that go on and on and live music.
The Reggae Bar (what would a Thai beach be without one?) features Thai boxing with both farang and local fighters and you can join in if you want – in the ring, that is… There are also many sunset trips out to Maya Bay or other destinations using dive boats or longtails.
Phi Phi Don has no clubs as such but the nearest thing to one is Tin Tin's, upstairs at the Reggae Bar. A lot of people prefer the fresh air at the beachside bars and there are several on the Loh Dalum Bay side as well. For live or recorded sports TV, try the Sports Bar just up the road from Tonsai Seafood.
Back 'Home'
Next day, after a good breakfast buffet at the hotel and a wander through the ever interesting streets, we clamber aboard our return ferry. The afternoon ferry leaves at 14:30 (the morning boat leaves at 09:00) and once again Asian passengers seek out the shade while our Caucasian shipmates hit the suntan lotion and soak up the rays.
The return experience is actually very relaxing and many people nod off after 30 minutes or so. We dock at 16:00 and are back in our Phuket hotel by 17:20pm, all a little sunburned but happy to have discovered Phi Phi and its charms.
Rate This Place:
( votes)