It's the late afternoon, and from the small plot of white sand I've laid claim to, I can see Phuket Island, the mainland province of Phang Nga, and a couple small, uninhabited islands - both inspiring Gilliganesque fantasies.
Another boat arrives, an armada of inflatable canoes storms the beach, and tour guides enjoy a game of beach football while their charges flop on mats in the shade and reflect on the day.
I wonder if I'm the only person confused as to where the hours went. We're ending a day that seems like it just began. But I'm getting ahead of myself.
Interested in this tour? Book it here.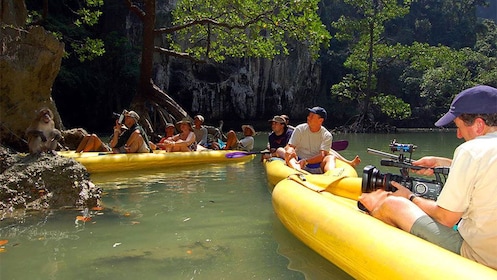 per adult
Free cancellation
Book
In the morning, I boarded one of Sea Cave Canoe's big boats - the name of it wasn't obvious, but ISO 9001:2000 certification was - from the little pier of Laem Sai on Phuket's northeast corner.
The boat chugged peacefully through Phang Nga Bay, where oddly shaped islands towered over the water. Some looked unbalanced; on the verge of collapsing into the sea. But some hid secrets.
The hongs ("rooms" in Thai) are caves that lost their tops - literally. Towering rock walls, sky blue ceilings, and watery carpeting, these dramatic rooms are the private sanctuary of all manner of plant and animal life. Dark tunnels, eroded from the stone, are the only way in and out.
During the course of the day, I was face to face with inquisitive monkeys, saw bats hanging a comfortable distance overhead, and grasped gnarled mangrove roots that twisted into knee-deep mud. I heard silence interrupted only by oars dipping in water. My guide asked me quietly, almost apologetically, to look here sir, look there, as he pointed out shapes in flowing rock formations: a dog's head, a duck, Buddha.
In a word, the scenery was astounding; easily enough to make the trip worthwhile. But the staff of Sea Cave Canoe was an unexpected bonus. Always quick with a joke, a smile, a cold drink, or a helping hand, they made the day truly memorable.
Guides were assigned to guests, personal introductions were made, and that was your paddle guru for the day. A glass of water or a bottle of cola was barely finished before a staff member swooped in to discard the trash, true to the "Keep Bay Clean" slogan scrawled on their shirts.
Instructions and informative tidbits were explained slowly, clearly, and even spelled out when there might be confusion. "The first island we are going to is Panak: P-A-N-A-K. In Thai, panak means back of a chair. So the island is comfortable, relaxing, something like that," said our head guide Took.
On we passed, from one sight to the next, until inexplicably, here we are winding down on the beach. Stellar sights, a first-class crew, and no little detail forgotten, I'll leave wanting only one thing: to come back again.
Rate This Place:
( votes)