Southern Thailand is blessed with an astonishing number of islands off its coasts. From tiny rocks to inhabitable larger pieces of land emerging from the surface of the Andaman Sea, islands – and above all, tropical islands – have always been perceived positively in our collective imagination. They offer a sense of freedom, escaping from the crowd, and exoticism.
Phuket – the largest island in Thailand – still offers the sensations mentioned above, but its fast development through the last several decades undoubtedly made it lose some of its idyllic vibes. Even so, many smaller islands around Phuket still offer a real feeling of evasion from our modern world. Below are the best islands around Phuket, each with its own personality and certainly worth a visit if you come by Phuket.
Interested in this tour? Book it here.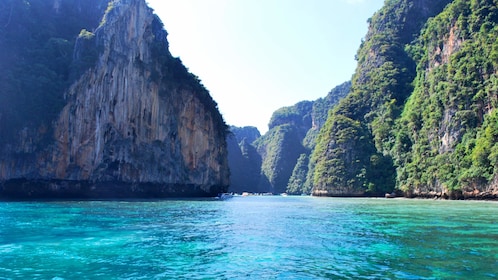 per adult
Free cancellation
Book
Phi Phi Islands have become one of the prime holiday destinations in southern Thailand for obvious reasons. This small archipelago of 6 islands is stunningly beautiful and can offer an ideal vacation for almost any taste.
Koh Phi Phi Don, the largest and only inhabited island of the group, features 3 main areas. The buzzing main village between Tonsai and Dalum bays is filled with hotels, shops, bars, and restaurants. Laem Thong, a very tranquil tropical cliché of a beach hosts only a few resorts. Then there's the southern coast, which counts a few accommodation choices stuck between the jungle and the sea. If you're looking for a drastic change of scenery for your holiday, Phi Phi Islands are bound to meet your expectations. Read More...
The Similans are a group of 9 islands belonging to the eponymous Marine National Park, about 84 km northwest of Phuket. Totally undeveloped, they offer their visitors an unspoiled remote territory in the same state as it used to be thousands of years ago.
Ranked among the top 10 dive sites in the world, the Similans can be visited on day trips as well as short stopovers. The rangers' camp features accommodation in tents and small bungalows that allow visitors to fully enjoy the natural beauty of the islands. With white powder sand beaches, lush vegetation, crystal waters, and only the sound being the wind through the branches, the Similans offer the ultimate place to get away from it all. Read More...
Also known as Raya, the Racha Islands are 2 islets situated some 20 km south of Phuket. Racha Yai and Racha Noi are especially famous for their top-notch diving and snorkelling sites, as well as for their 'full of fish' surrounding waters.
Racha Yai is the only island of the 2 featuring accommodation options and a small local population of Muslim fishermen and farmers. Relatively busy during daytime with the passage of day-trippers, it regains its tranquillity after around 4pm, and offers its guests laid-back evenings spent in the few bars and restaurants available, or stargazing on the beach. Read More...
Coral Island (Koh Hae in Thai) is a small island that's around 5 km off Phuket's southeastern coast. The short commuting time – 15 minutes by speedboat – from Phuket, makes this island a very popular day trip destination.
Coral Island features only 2 beaches named Long and Banana, both of them facing north and offering great diving and snorkelling opportunities. There is only one hotel – Coral Island Resort – and a few bars and restaurants on the island that, in a similar way as Racha Island, is buzzing with day-trippers until mid-afternoon before it regains its peacefulness at night. Coral Island certainly has all the assets of a tropical dream destination near Phuket. Read More...
Koh Yao Yai and Noi are 2 rather large islands situated right between Phuket's and Krabi's coasts, at the mouth of Phang Nga Bay. From Phuket, it takes about 45 minutes to get there by local ferry, or 20 minutes by speedboat.
For the visitor, Yao Noi is more developed than Yao Yai, with the presence of a good choice of hotels from budget to 5-star. The charm of these islands stands in the fact that they have not been overdeveloped, and that a peaceful community of Muslim farmers and fishermen is the only human presence. Offering a journey back through time to their visitors, these islands have preserved their ancestral traditions and beautiful tropical landscape. Read More...
Khai Islands – Koh Khai Nok and Koh Khai Nai – are 2 tiny islets situated to the east of Phuket, only a 20-minute ride by speedboat. The largest of them, Koh Khai Nok, is particularly busy in high season as it offers a pleasant getaway from Phuket for those who want to enjoy sunbathing and snorkelling without the hassle of a long trip at sea.
Both islands are uninhabited, and Khai Nok is the only one which can be visited. Featuring all the infrastructures necessary to spend a comfortable day on the beach – restaurants, bars, sun-loungers and umbrellas – the highlight of Koh Khai Nok is the multitude of tropical fish roaming around the shore, giving visitors the great experience of swimming in a natural 'aquarium'. Read More...
Directly opposite Rawai Beach, off Phuket's southeastern coast, Koh Bon is a small rocky island that features a long beach to its eastern side and a small sandy patch at its northwestern tip where the only restaurant of the island is situated.
Under British management, Koh Bon is a cool place to enjoy fresh seafood, as well as Thai and western delicacies. A perfect destination for a short break, it is a tranquil island offering good swimming and a great natural escape from the hustle and bustle of Phuket. On your way there, ask the driver of your longtail or speedboat to stop by the southwest corner of the island. It hosts an excellent snorkelling spot. Read More...
Rate This Place:
( votes)