Day trips around Phuket give you the occasion to spice up your holiday in the prime tourist destination in southern Thailand. Phuket Island is already gifted by a great number of natural assets, from its superb west coast beaches to its hills covered with rainforest to its east coast mangrove forests to its towns offering all the infrastructures and modern comfort required to spend a great time. Yet, no vacation in Phuket would be complete without visiting some of the first-rate destinations located in the vicinity of the 'pearl of the Andaman Sea'.
Some big names often mentioned in the travellers' bucket-list are located just a few miles away from Phuket and can be discovered during professionally organised day trips: Phi Phi Islands and Phang Nga Bay are certainly the two most famous ones, but visitors can also get a kick out of snorkelling at the remote Similan Islands, elephant trekking in Khao Sok, or riding an ATV and going with the flow on a raft along a tumultuous river in Phang Nga Province. Check out our selection of five best day trips around Phuket…
Interested in this tour? Book it here.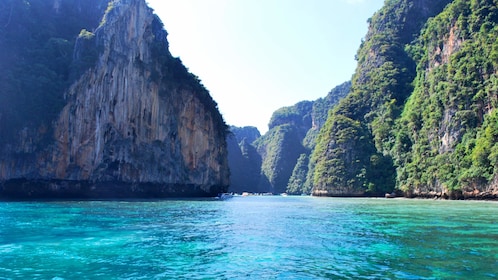 per adult
Free cancellation
Book
The Phi Phi group of islands is the most famous destination around Phuket. Located 46km southeast of Phuket, Phi Phi Islands can be reached in about 45mn by speedboat. This day trip will allow you to see the most notable sites and islands/islets of Phi Phi (apart from the main village of Tonsai): you will feed crab-eating macaques at Monkey Beach on Koh Phi Phi Don (the largest and only inhabited island of the group), explore Maya Bay (where the movie The Beach was filmed) on Koh Phi Phi Leh, contemplate Loh Sama, Pi Leh cove and the Viking Cave still at Koh Phi Phi Leh, before to move up to the northeastern part of the archipelago to snorkel at the superb reef of Hin Klang.
The buffet-lunch is served at a restaurant set right on the beautiful beach of Laem Thong near the northern tip of Koh Phi Phi Don, before to go for an hour of relaxation/nap/sunbathing/swimming at the small and charming Bamboo Island. As a cherry on the cake, when booking through this website Phi Phi Islands day trip comes with an additional free tour… Read More...
Phang Nga Bay Marine National Park covers an area of 400sqkm to the northeast of Phuket. Featuring almost unique seascapes (only Ha Long Bay in Vietnam shares a similar appearance) made of tall limestone cliffs erecting from the emerald brackish waters of the bay, this site offers a stunningly beautiful place to take pleasure in eco-friendly sea-kayaking day trips. Run by John Gray, a passionate American environmental activist who, at the end of the '80s, was the first to explore the caves passing through the limestone islands of the bay, the Hong by Starlight tour is the occasion to discover an outstanding natural environment.
From 14:30 to 20:00, you will be onboard a comfortable boat under the supervision of experimented guides who know everything about Phang Nga Bay. You will visit, on sea-kayaks paddled by the guides, mysterious caves and 'hongs' ('room' in Thai, the limestone block of some of the islands has been emptied by waters from the sea and sky, creating a lagoon surrounded by cliffs covered with tropical plants and trees), and taste delicious seafood prepared Thai style on the boat. Read More...
The Similan Islands are slightly less renowned than Phi Phi, yet are without doubt one of the most beautiful and exotic destination in southern Thailand. Getting on a day trip from Phuket to the Similans represents some kind of a venture as the journey is pretty long; nevertheless, these remote islands are definitely worth the effort of an early wake up. Situated 70km from the coast of Phang Nga Province, the Similans are a group of nine islands ('Similan' means 'nine' in Yawi – a dialect of Malay language) completely preserved from any development due to their national park status.
With crystal waters, granite boulders, thick jungles, unique flora and fauna, the Similan Islands are a dream destination for any nature-lover. Especially famous in the scuba diving world for their stunning underwater sceneries and for the occasional presence of manta rays and whale sharks, the Similans also offer exceptional snorkelling spots. Two-day and three-day trips to the Similans – accommodated camping-style, are also available. Read More...
ATV & White Water Rafting in Phang Nga is an exhilarating action-packed day trip: from Phuket it only takes one hour by minibus to reach the Tone Pariwat Wildlife Sanctuary, in which the tour organiser camp is set on the banks of a turbulent river. The two main activities are done in the morning, before lunch: the one-hour ATV riding tour permits to discover the splendid rural décor of Phang Nga Province, going through hamlets, driving in a river shallow-waters, and getting glimpse of southern Thailand local life; the rafting escapade will take you on the tumultuous river mentioned above for a thrilling and delighting experience supervised by professional tour-guides.
After all these emotions and an excellent lunch taken at the camp's restaurant overlooking the river, you will get in a local bus for a short ride on the way to a beautiful waterfall at which you can relax and bath in natural pools surrounded by lush rainforest. This day trip offers an exotic journey filled-in with exciting activities in the beautiful province of Phang Nga. Read More...
Khao Sok National Park is located some 150km north of Phuket, so this day trip's departure is, similar to the Similan Islands tour, pretty early; however, an excursion in the oldest evergreen rainforest in the world is worthy indeed. After the journey by minibus through the splendid mountainous landscapes of Phang Nga Province to the tour's camp, you will start this soft-adventurous day trip with one hour of elephant trekking through the lush vegetation of the park.
After an invigorating lunch served in a charming local restaurant set on the banks of Khao Sok River, you will embark on canoes paddled by local tour-guides for a gentle cruise along the river. Photographers should get their camera ready as this stroll down Khao Sok River gives great shot opportunities as well as the chance to spot a great variety of flora and fauna specimens. This eco-friendly tour will leave you with a great feeling, like getting back in time to the natural roots of our planet. Read More...
Rate This Place:
( votes)