Flying Hanuman in Kathu is just the right place for you if you're the type of person who loves to zip through the sky 40 metres above a jungle. Eco-friendly and well executed, Flying Hanuman explores the jungle in a decidedly aerial way.
We arrive at a lobby thronging with participants and have a quick look around. The place is superbly designed, with artistic touches here and there, immaculate toilets and a restaurant to the left of the lobby. We then watch a safety-and-information DVD on a 40" flat screen TV incongruously hanging in a bamboo-and-thatch hut that is so well done that it gains a round of applause from a rowdy group of students.
Interested in this tour? Book it here.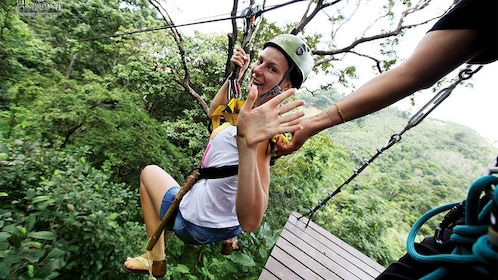 per traveler
Free cancellation
Book
The most important part of the equipment supplied at ground level is the personal pulley. This allows you to zip from line to line. The safety carabineer and lanyard are attached to the safety lines on each platform and act as a backup attachment when on the ziplines. Each group (even if only one guest) will have a minimum of two safety guides with them. And speaking of safety, do make sure you use mosquito deterrant spray beforehand (and plenty of it) as the jungle is the home of these pests.
All platforms are made of wood and are supported by industrial-strength cables. Ziplines can hold multiple tonnes of force and are checked regularly for signs of wear and tear. The cables can rub against the trees so wooden chocks are used to keep them separate. Participants then don the bright yellow pulleys and orange safety helmets and up the hill and into the forest they go to the waiting sky rails, sky bridges, high-speed ziplines along with dual ziplines, and spiral staircases.
Flying Hanuman offers a chance to discover Phuket's rainforest canopy from a really special angle. It is unique as you will never see exactly the same scenario even if you return many times as according to the period of the year or the time on the day the forest's colours and atmosphere change.
Summing up, Flying Hanuman is a highly recommended nature tour that allows visitors to enter and explore a specific environment which has been here for millenniums and hopefully will stay here forever.
Flying Hanuman
Location: on the road to Kathu Waterfall
Remarks: Ask your hotel if you wish to book this tour
Address: 89/16 Moo 6, Soi Namtok Kathu, Wichitsongkram Road, Phuket 83120
Tel: +66 (0)76 323 264-5
Rate This Place:
( votes)