The All-in-One Phang Nga Bay Tour takes you on an exhilarating discovery cruise in one of the most famous natural attractions near Phuket Island: Phang Nga Bay. Covering some 400sqkm and counting 42 islands, it is a unique place – only Ha Long Bay in Vietnam has similar seascapes – and has been considered a site of international ecological significance since 2002.
Limestone cliffs with caves, or 'hongs' (rooms in Thai – lagoons only accessible by sea-kayak through caves), archaeological sites, and mangrove forests, Phang Nga Bay is a marvel of Nature hosting over 200 animal species – birds, amphibians, mammals, and fish. This tour covers eight different sites in Phang Nga Bay, and the way its itinerary is scheduled allows you to discover them at the best time of day – when all other tours have left already – and offers many impressive sights while visiting the different sites.
Interested in this tour? Book it here.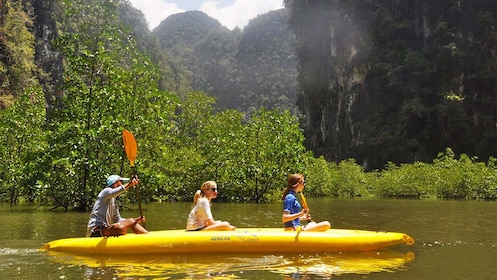 per adult
Free cancellation
Book
All-in-One Phang Nga Bay Tour starts from Ao Po Pier in the northeastern part of Phuket at about 11:00. Our first destination is Naka Yai Island which is located three kilometres off the coast right in front of our departure port. We stop on the east coast of Koh Naka Yai and go by long-tail boat to a 600m long white-sand beach (the perfect tropical cliché) where we stay for 30 minutes. Here, you can enjoy swimming, sunbathing, renting a jet-ski (800 baht – 15 minutes / 1,000 baht – 20 minutes / 1,500 baht – 30 minutes) and having a drink/snack at the beach bars and stalls serving cocktails, beers, smoothies and fruits.
Lunch is served on board as soon as we get back on the boat: fried and plain rice, fried veggies, larb gai (spicy Thai chicken salad), fried noodles with chicken, fried fish, fried onions, fried chicken, salad and dressing, tom yam (Thai soup). The food is good even if not particularly balanced. Please note that all food is Halal and that vegans can get a separate menu.
As lunch ends, we reach our second stop: we explore Koh Hong in inflatable canoes paddled by local guides (after all, we're on holiday, aren't we?). Kayaking between the towering limestone cliffs (some are over 80m high), visiting caves, gives a real back-to-Nature feeling and revitalizes us.
After this tremendous kayaking session, we move on then stop a few hundred metres from James Bond Island (Koh Ping Kan), which we reach by long-tail boat. At this time of the day, the crowds have left and we have the island for ourselves. The Bond movie The Man with the Golden Gun was shot here in 1974; the décor is splendid with Koh Tapu (Nail Island) standing alone in the middle of a small bay, rising perpendicularly from the green sea. After our 007 adventure we head off, still in a long-tail boat, to an islet located in the northern part of the bay where we are shown painted figures in a sea cave; our tour guide tells us that they are more than 1,000 years old. We then head south to visit Koh Panyee Village.
Originally, Koh Panyee was just a 400m by 80m limestone cliff with an approximate height of 80m on which an entire village was built on stilts and established during the 19th Century. Today, this amazing place counts at least 100 houses, a mosque, an elementary school and a dozen or so seafood restaurants catering to the many tourists visiting this 'water city' on a daily basis. The stop here is mostly about shopping: pearls, clothes, souvenirs, dried seafood, and this provides a living for this unique village's inhabitants.
On our way back to the 'mother-boat', our long-tail boats pass through a mangrove forest and we pass a natural tunnel (we can't go through it due to high tide) in the rocks. Our vessel then turns back in the direction of Phuket Island as the sun goes down. Sunset in Phang Nga Bay is the eighth wonder of the world, but unfortunately some capricious weather conditions leave the sky overcast. Nevertheless, cruising in the bay when night falls is a great experience as the almost tangible mysterious aspect of the place is reinforced in the dark.
Tour Itinerary Map
Rate This Place:
( votes)