Phi Phi budget tour by speedboat offers you the chance to discover one of the most favourite destinations in south Thailand for a rate defying all competitors. Three islands are visited during this day trip: Koh Phi Phi Don, Koh Phi Phi Leh, and Koh Kai Yai; and its very affordable rate doen't mean that the quality of services offered suffers. The interesting price is easily explained by the size of the speedboats used for this excursion: they can accommodate up to 45 seated passengers with similar comfort/space for each guest as in a smaller speedboat.
No wonder why the Phi Phi Islands are popular: they represent the perfect tropical dream destination, just like being in a postcard. It may be a cliché, but white sand beaches, turquoise waters and nodding palms will always make people dream; and this is exactly what's on offer with this tour: a dream come true, yet at affordable rates.
Interested in this tour? Book it here.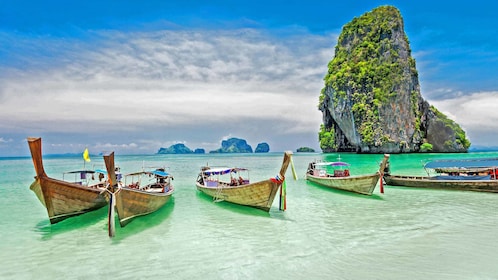 per adult
Free cancellation
Book
This Phi Phi tour may be cheap but it departs from one of the classiest marinas in Phuket: Royal Phuket Marina. After an itinerary brief filled with humour, we walk through luxury yacht berths to reach our speedboat which, with its three 250hp engines, will take us to Phi Phi Islands in record time. After a 45mn cruise at high speed, we reach Koh Phi Phi Don and its largest harbour: Tonsai Bay. Our boat gets close to the tall limestone cliffs for the first activity of the day: feeding bananas to the macaque monkeys who live on the cliff (beware, they bite!).
After this, we move a few hundred metres away in the bay for a 30mn session of snorkelling in the emerald water observing fish, corals and other marine life. Our next stop is for lunch at Carpe Diem, a restaurant/nightlife joint located in the eastern part of Tonsai Bay. The food prepared here is far from fine dining, but is tasty and served in enough quantity to satisfy the hungriest of us. After this 45mn break, we head off to discover Koh Phi Phi Leh, the second island by size of the Phi Phi mini-archipelago (which is made up of six islands).
It takes only five minutes by speedboat to reach Koh Phi Phi Leh which lies some 5km from Tonsai Bay. The speedboat cruises along the east coast of the uninhabited island for a sightseeing tour featuring Viking Cave, Pi Leh Bay, and Loh Sama Bay, before to reach Maya Bay – 'The Beach' movie with Leonardo DiCaprio was shot there and this is where we stop for 30mn which is spent swimming, sunbathing and exploring by walking to the back side of the bay where a staircase with a viewpoint to Loh Sama has been set up. The place is pretty busy but it's still worth a visit.
After Maya Bay, our next destination is Koh Kai Nai, the largest of the three Kai islands (Koh Kai Nok and Koh Kai Nui are the two others), located some 15mn off Phuket's east coast. The island has changed a lot in the recent years: first, its shape is never the same due to its geological particularity – its limestone rocks are gradually sculpted by the sea and wind, and the beach itself moves around the island according the seasons and sea currents; second, the central part of the island is now mostly covered by bamboo-and-thatch bars, restaurants, shops, and a dive centre.
We stay at Koh Kai Yai for two hours: you can rent an umbrella with two long-chairs for 150 baht, or indulge yourself with a drink (waiters come to you with a drinks menu on which you will find cocktails, mocktails and other beverages and snacks). Here, jet-skis (1,000 baht for 15mn) and banana boats are for the sporty types, or you can enjoy splendid snorkelling, as some 30m off the beach, beautiful corals and marine life wait to be explored. Just beware of those nasty sea urchins that cover the bottom of the sea in some places.
Summing up, this Phi Phi bargain tour by speedboat is a great way to discover some of the wonders of the Andaman Sea, and with sympathetic tour-guides and boat crew, excellent service, nothing is cheap on this tour… except its price.
Rate This Place:
( votes)