The Phi Phi Islands tour by speedboat is a favourite day trip from Phuket. The Phi Phi archipelago comprises six islands – Phi Phi Don, Phi Phi Leh, Koh Bida Nok, Koh Bida Nai, Mosquito Island, and Bamboo Island, and is located only 45 minutes away by twin-engine speedboat from Phuket.
This exhilarating island-hopping tour takes you to no less than four islands with several stops or sightseeing slows down at their most beautiful bays and beaches: Monkey Beach and Laem Thong on Koh Phi Phi Don; Maya Bay, Pi-Leh bay, Loh Sama Bay and Viking Cave on Koh Phi Phi Leh, Bamboo Island beach, and last but not least, the beautiful tiny island of Khai Nok situated a few miles off Phuket's east coast. What a day!
Interested in this tour? Book it here.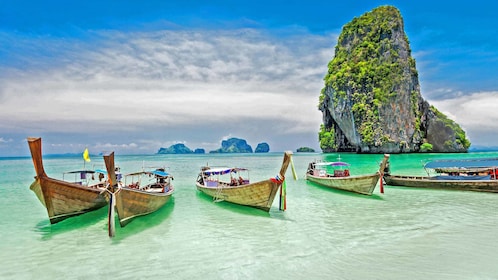 per adult
Free cancellation
Book
The trip departs from the Royal Phuket Marina where we are offered soft drinks and choose our snorkelling equipment. After 30 minutes at sea, about halfway there, the Phi Phi Islands appear in their wild majesty beneath a light blue sky. Our first sightseeing stop is at Monkey Beach in Tonsai Bay, a 100m-long strip of white sand at the feet of an 80m cliff. The beach got its name from the crab-eating Macaque monkey colony living here. Superb emerald-coloured water laps at the beachside.
Our second stop is at Koh Phi Phi Leh's Maya Bay: a broken circle of crystal-clear waters surrounded by high vertical rocky cliffs. The beach (where the eponymous movie with Leonardo Di Caprio was shot) faces the entrance of the bay. According to a local Sea Gipsy legend Maya is the name of 'a sea princess' who helped them find shelter in the bay during a storm.
We enjoy snorkelling here before getting back on the boat and cruising around the island and discovering its magnificent natural beauty: bays (Loh Sama), canyon-like fjords (Pi-Leh bay), and the Viking cave (in which swifts' nests are harvested to prepare the world-famous bird's nest soup). After seeing all these natural wonders we head toward the northeastern part of Koh Phi Phi Don for lunch.
Laem Thong is an 800m-long beach, with only four hotels and a Sea Gipsy village. This beach is almost a tropical cliché (without any negative allusion of the term) with white powdered sand, turquoise water and nodding palms: all of a sudden you're in a postcard! The restaurant offers a decent buffet of Thai and Western food and the lunch break gives you enough time to relax in the shade, and swim or go exploring the area before to get back on the boat for further underwater exploration at Hin Klang.
Hin Klang is a 'coral mountain' situated three metres under the surface between Laem Tong and Bamboo Island. It's a very famous snorkelling place. After frolicking in the water for a while, we head towards the east coast of Bamboo Island for a break on the beach. The afternoon is already well under way when we motor back to Phuket Island.
On the way we stop at a tiny island, Koh Khai Nok, where we swim surrounded by hundreds of tropical fish, before arriving back to the pier then our hotel with brine in our hair, a dark suntan (and bright red skin for those who did not use sun protection lotion) and the exciting feeling shared by those who have just been through a thrilling adventure.
Tour Itinerary Map
Rate This Place:
( votes)