The best places to snorkel in Phuket are often found a short distance from some of the island's 36 fantastic beaches, making them conveniently accessible and making snorkelling a great addition to a relaxing day by the sea. That does not mean that all 36 offer the same perfect clear waters and wondrous marine habitats, however, which is why we have compiled this list of the 5 Best Snorkelling Beaches in Phuket.
These are the places where you can drift past anemones, parrot fish, various types of coral and the dancing shafts of golden sunlight. Take a deep breath and kick down the few short metres to take a closer look at this rarely-seen underwater world, which is easily explored thanks to Phuket's warm and clean waters, its lively marine ecosystems and these five fantastic beaches.
Interested in this tour? Book it here.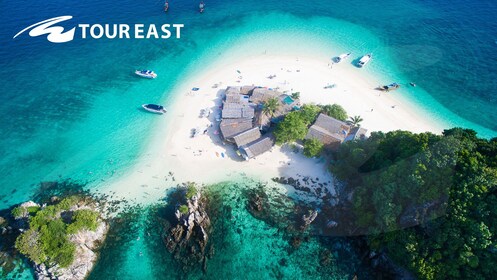 per adult
Free cancellation
Book
1
Ao Sane
Just next to Nai Harn Beach
A 200-metre-long beach next to Nai Harn Beach in the south of the island, Ao Sane has huge granite boulders, and two distinct snorkelling areas; one is a sharp drop off out into deeper waters populated by parrot fish, clown fish and even the odd eel or two.
The second snorkelling area is located to the right of the beach restaurant and is only accessible at high tide as the coral is close to the surface but it's worth waiting a while if the water is too low. The sea here is safe all year round. Read More...
How to get there: Head toward 'The Nai Harn Resort' at Nai Harn Beach's northern end. Follow the road under the hotel and keep going. The beach is well marked.
One of Phuket's most beautiful beaches, the sea here absolutely defines the colour turquoise, especially at the rocky promontories at each end of the 850-metre beach where marine life is abundant.
Just below Mom Tri's Villa Royale at the northern end is the place to be at around midday as visibility here is at premium and there's so much to see, including vivid corals but do not attempt this is you are a weak swimmer as it is a little ways out from the shore. Snorkel here only in the high season. Read More...
With views out over Patong Bay and situated about five kilometres southwest of Patong, you get to Paradise by heading south along the last stretch of Patong's Beach Road to Amari Phuket Resort, taking a left at the fork and going past Baan Yin Dee up on the hill.
This 150-metre sheltered beach has large granite rocks at both ends and a coral reef about 100 metres out which should only be accessed by strong swimmers. If you want to use the beach you'll have to hire a sun bed for about 200 baht. Good and safe snorkelling here. Read More...
4
Ya Nui
Between Rawai and Nai Harn Beaches
This compact beach in the south of Phuket has a rocky promontory jutting out into Nai Harn Bay with lots of brain coral surrounding it. The further you go out here the better the snorkelling gets and if you have a boat you should head out to the opposite islet where the waters are teeming with tropical fish.
There's also good snorkelling along the base of the 'Windmill Hill' that overlooks the beach. The actual beach itself gets crowded but once out past the ubiquitous moored yachts, the underwater life is splendidly tranquil. It is not advised to swim here between May and November. Read More...
Laem Ka is unique for various reasons. First of all it's the only eastern-facing beach in the south of Phuket that offers good swimming and secondly, it's a total full-on Thai experience. The southern end of this sheltered, 150-metre-long beach is rocky but, at high tide, it is perfectly possible to swim out and snorkel. The middle of the beach is dominated by large granite boulders - the habitat of many crab species - while the northern end offers fewer rocks and is a favourite splashing, frolicking and swimming spot. Laem Ka is a kids-friendly beach because of its safe waters and shade-giving trees. Read More...
Phuket Snorkelling Tips
Wear thick sunscreen or/and a T-shirt; the sun's rays are magnified by water
Be wary of jet-skis and make yourself as visible as possible while snorkelling
Always defog your mask before diving. No use swimming amongst beautiful tropical fish if you can't see them
Kicking from the hip is the most effective way to use your fins
Please do not touch coral under any circumstances
Rate This Place:
( votes)