Rassada Pier is the main dock for boats and ferries travelling to and from Koh Phi Phi, Koh Lanta, Krabi and a host of smaller islands off the coast of Phuket. This popular pier is located just a few minutes southeast of Phuket Town, on the west coast of the island. It takes around one hour to reach Rassada Pier from Phuket International Airport. There's a snack shop and a couple of food stalls close to the pier, but don't expect too much choice.

Every morning, Rassada Pier becomes a hive of activity, with hundreds of day-trippers taking boats to Phang Nga Bay, hiring private yacht charters, fishing trips, and the previously mentioned transfers to surrounding islands – either by ferry or speedboat. The first ferries begin leaving Rassada Pier around 08:00 for Krabi and Koh Lanta.
Interested in this tour? Book it here.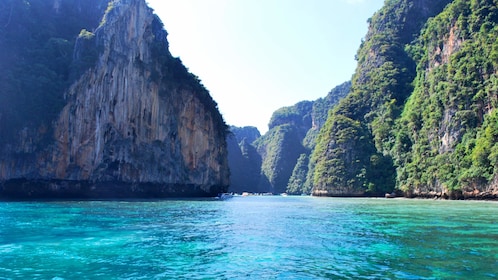 per adult
Free cancellation
Book
We recommend you book in advance, but there are usually tickets available on the day of travel, which can be purchased from ticket booths at the pier. Naturally, this comes with the risk of disappointment, particularly during high season, when boats are often booked to capacity. Beware of touts operating just outside Rassada Pier, who will approach you and speak in good English, saying they can offer you tickets for a special price and give you VIP access to the boats. Most likely, they will sell you a standard ticket at three times the price.

Travel information for Phuket to Koh Phi Phi:
Rassada Pier to Koh Phi Phi by Ferry takes around 2.5 hours for a cost of 350 or 690 baht one way (depending on which pier in Koh Phi Phi you arrive at).
Rassada Pier to Koh Phi Phi by speedboat takes 1 hour, but is more expensive. It is best to book in advance.
There are ferries leaving every hour from 08:00 to 15:00.
Rate This Place:
( votes)