Interested in this tour? Book it here.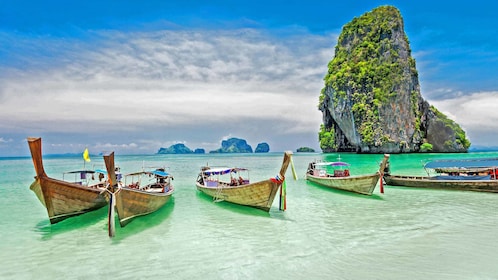 per adult
Free cancellation
Book
1
Phuket to Phi Phi Islands by Boat
The Phi Phi Island tours provide one great activity after another, perfect for any type of group. Have fun sightseeing, swimming, and snorkeling at Maya Bay, Loh Samah Bay, Pileh Cove, Viking Cave or Monkey Beach. Soak up the sun as you relax on the white sand beach or take shelter under a 328-foot-high cliff. If it gets too hot, hop off the boat into crystal clear waters for swimming and snorkeling. Groups can enjoy lunch served at a beachside venue before being whisked away to a secluded beach where you can enjoy more swimming and snorkeling with gear included.
Go out on an exciting adventure with a thrilling 7 hour kayaking tour as you explore the tunnels, lagoons and the outstanding nature surrounding Lawa Island. Fascinating scenery and geology will overwhelm you while you explore the natural beauty the islands have to offer. Stop off to swim at a secluded local beach of dive into the water and swim or snorkel. You can even take a guided tour to explore the national park. Here you will have the chance to try canoeing by yourself or just relax on the beach. This tour is perfect for groups who want to combine canoeing experience with some sightseeing on the famous James Bond Island. This extraordinary limestone rock became very famous after some parts of the movie "The man with the golden gun" was filmed there 1974.
3
Phuket Fantasea Show and Dinner
Inspired by Thailand's rich and exotic heritage is the Fantasea Show and Buffet dinner. A Carnival village with games, handicrafts and shopping, this 4,000-seat themed restaurant offers a grand buffet of Thai and international cuisines. Also included is a breathtaking Las Vegas-style theatrical show which features live animals, acrobats and other performances certain to delight any group. Other attractions include a theme park and shopping area. It's a great dinner and show package worth the price of admission in a group-friendly venue.
4
Jungle Xtreme Adventures Park Ropes Course
Situated in a lush forest near Phuket city is the Xtreme Adventures Park ropes course, ideal for those who crave exploration. It's a great activity for groups while visiting Phuket because you get the opportunity to have fun outdoors while taking in the beautiful scenery of the island. Test your balance, strength and agility along the physically challenging course. Walk, swing, climb and balance on suspended bridges and net hammocks between the trees. Your stamina is rewarded at the end of your outdoor workout with the grand finale: thrilling ziplines that take you back down to earth. Choose from different levels available for different ages and physical strength. There are safety nets and trained instructors to ensure your safety at all times with round-trip hotel transportation included.
5
Tour of The Chalong Bay Rum Distillery
For a unique experience nestled in the countryside, take a private tour of the Chalong Bay Rum Distillery with a friendly and informative guide. Running every hour after 2pm, join one of the tour experts as they explain the process and production of the rum with small bites and rum tastings along the way. At the end of the tour is a bar serving fantastic Mojitos and other cocktails with their delicious rum made on-site in a relaxed atmosphere. Groups can easily spend an afternoon here sipping their brilliant rum concoctions and playing classic board games.
Big Buddha is one of the island's most important and revered landmarks. Sitting on top of the Nakkerd Hills between Chalong and Kata, the 147-foot statue can be seen from miles away. The whole body is constructed with reinforced concrete layered with beautiful Burmese white jade marble that shines in the sun, making it a natural symbol of hope. On a good day, more than 1,000 people visit the site, including groups, many of whom donate money for maintenance and write messages on the purchased items for good luck and in memory of loved ones who have passed away. Although it usually takes over an hour to reach the very top, there are ATV rides, cafes, bars and scenic views on the way. Once you reach the top, you will be rewarded with the best 360-degree views of the island and if you stay for the sunset, it will be a magical moment you and your group will never forget.
Buddhist temples are among the most important symbols of Thailand and Wat Chalong in Phuket is no exception. Of the 29 Buddhist temples spread around the island, Wat Chalong is considered the most important and a popular tourist destination for groups. It is a place where locals come to pray and Westerners come to learn about Buddhism. The stunning architecture and ornate design of the temple with shrines and gardens is an incredible sight to see. Visitors are asked to dress appropriately and be respectful of the ongoing ceremonies of the monks at any given time. If you go there in the evening, you can see the ceremony firsthand and it is truly an unforgettable experience. The temple houses lots of separate buildings with different functions and décor and with such wonderful architecture throughout, group travelers can appreciate how calm and beautiful it is to visit.
If you dare, be sure to plan a visit to the one and only Tiger Kingdom. The tigers, and there are lots of them, are brilliant and well cared for. The handlers have it down to perfection. You can watch the tigers run around and play or splash in their pool. You can also touch and interact with the tigers closely for ten minutes and you may even get a chance to bottle fed a baby. The staff is also extremely helpful in taking pictures and ensuring the safety of those who visit. For groups traveling to Phuket, this is a once in a lifetime experience. Tigers of all shapes and sizes, some very big and formidable, and some very cute and adorable.
Relax and soak up the sun at this hidden gem. Freedom Beach is one of the prettiest beaches with soft white sand and crystal clear blue waters ideal for groups planning a nice day trip. Locals come around offering foods and goods and there are little shops shattered about offering the best deals in Thai massages. Beach chairs are also available to rent at a reasonable price or you can bring your own swimming gear and explore the waters on your time. The best part of Freedom Beach is that it's not too crowded and you can either get their by boat or taxi, depending on your travel style.
Rate This Place:
( votes)