Phuket has a wide range of activities: as a tropical island it has all sorts of possibilities when it comes to land and at sea activities.
The Top 10 below has been composed according to the tastes and choices of most people visiting the island (we've got the stats...) and whether it's snorkelling, mini-golf or cable waterskiing you are sure to find an activity according to your taste. If not, there's always sunbathing...
Interested in this tour? Book it here.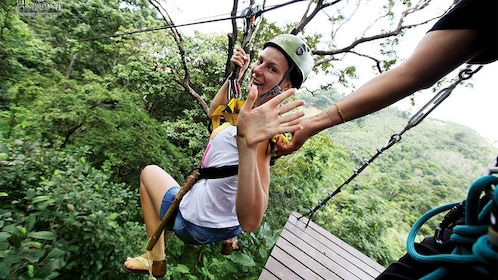 per traveler
Free cancellation
Book
Phuket is a great place to learn to dive or enjoy some fun bottom time. It's rated among the top diving destinations in the world and many of the centres in the area boast years of experience. Diving day trips from Phuket to Phi Phi Island and the Racha Islands operate throughout the year, though conditions are at their best in the high season.
Both beginners and experienced divers will appreciate the underwater scenery at Phi Phi, the fascinating King Cruiser wreck close to Anemone Reef, and the exciting diving at Shark Point – named after the Leopard sharks which live on the sandy bottom. For world-class scuba diving and the really big fish, go for a liveaboard dive cruise to the Similan and Surin Islands in the Andaman Sea. Read More...
The tropical waters of the Andaman Sea are excellent for snorkelling – clear, calm, balmy and bursting with brilliant marine life. The best places to see things under the sea are generally those beaches with rocky shorelines, like Ya Nui Beach or the headland between Kata Beach and Kata Noi Beach.
Snorkelling can be done year-round in Phuket, but the best time of year is from November to April – the high season. It's possible to rent snorkelling gear for the day at some beaches, and many shops around the island sell a range of masks, snorkels and fins. Read More...
In Asia, the spa culture has evolved into a concept focussing on the spiritual and natural, drawing from traditions of meditation, respect for nature and the desire to achieve physical and mental wellbeing – the key to maintaining health and beauty. Thai massage, in particular, is famous around the world for being extreme yet effective. Phuket has a dizzying array of spas to choose from when it comes to relaxing aching muscles, ranging from top-end retreats to side-street stores. Read More...
Phuket has a choice of fine golf courses, all of which have been designed to take full advantage of the island's tropical climate and unique topography. Many visitors come solely to play golf around the beautiful landscaped courses, which make use of the local abundance of water and trees to full effect. Many of the courses and near hotels to ensure that accompanying family members can enjoy being left to laze by the pool or on the beach.
Standards are high, ensuring that the greens are green and the holes are challenging enough to stretch new and experienced players alike. Some of the courses have even been used for international competitions and world championships. Read More...
Flying Hanuman in Phuket is a zipline adventure park where you can soar through the sky 40 metres above a jungle. This eco-friendly attraction lets you explore the hillsides of Phuket through several obstacle courses and sky bridges.
Flying Hanuman in Phuket offers 3 courses (journeys), all of which include a free Flying Hanuman premium collection t-shirt, and roundtrip transfer. You get to explore the adventure park's facilities, including platforms, ziplines, sky bridges, abseiling points, spiral stairways, and a wilderness walk. Note that you have to wear pulleys and safety helmets at all times. Read More...
Opening Hours: Daily from 8am to 6pm
Location: 89/16 Moo 6, Soi Namtok Kathu, Wichitsongkram Road, Kathu, Phuket 83120, Thailand
Tel: +66 (0)81 979 2332
Muay Thai is one of the most popular spectator sports in Thailand. While exciting enough on TV, the relentless punches, crushing elbow strikes, powerful kicks, and artful feints are even more riveting when seen live. Travellers to Phuket can enjoy Thai boxing matches at specially built stadiums on Soi Sai Namyen, in Patong.
You can also train in Muay Thai in Phuket. There's an entire street in Chalong where almost every property is a gym, healthfood restaurant or low-cost accommodation specifically intended for those training in the art of Thai boxing. Other gyms are dotted around the island, too. Read More...
Thailand isn't especially famous as a surfing destination, but the best place to catch a wave here is in Phuket. During the low season, the beaches along the west coast become a haven for surfers, with a range of difficulty levels available. There are plenty of places to buy or rent boards, as well as a number of big annual surfing contests to enjoy. Read More...
Phuket Wake Park offers one of the most fun and challenging activities in Phuket. Whether you are a beginner or an expert, you can enjoy many exciting wakeboarding rides at this outdoor park. It has a large freshwater lake equipped with 2 Sesitec Cable systems: a short one for beginners and one that goes all around the basin.
Located near Kathu Waterfall, its location offers exotic views of the surrounding trees and hills. You can rent wakeboards, gloves, life vests, and helmets for a small fee. Phuket Wake Park has professional instructors who provide 30 minutes of private training for those new to wakeboarding. Read More...
Opening Hours: Daily from 7am to 9pm
Location: 86/3 Moo 6 Vichitsongkram Road, Kathu, Phuket, 83120, Thailand
Tel: +66 (0)76 202 525
Rate This Place:
( votes)