Phuket has a wide range of activities: as a tropical island it has all sorts of possibilities when it comes to land and at sea activities.
The Top 10 below has been composed according to the tastes and choices of most people visiting the island (we've got the stats...) and whether it's snorkelling, mini-golf or cable waterskiing you are sure to find an activity according to your taste. If not, there's always sunbathing...
Interested in this tour? Book it here.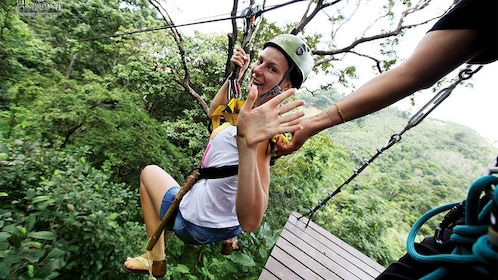 per traveler
Free cancellation
Book
Diving in Phuket and liveaboards in Thailand, the Andaman Sea offers dive sites considered to be among the top ten scuba destinations in the world. It boasts crystal clear water, spectacular reefs and rock formations, plus a colourful selection of marine life. Read More...
The tropical waters of the Andaman Sea are ideal for snorkelling - clear, calm, balmy and bursting with brilliant marine life. Snorkelling can be done year-round in Phuket, but the best time of year is November-April. At some beaches it is possible to rent snorkelling gear for the day, and many shops around the island sell a range of masks, snorkels and fins. Read More...
In Asia, spa has evolved into a concept focussing on the spiritual and natural, drawing from traditions of meditation, respect for nature and the desire to achieve physical and mental well being, the key to maintaining health and beauty. Phuket's spa scene will surely meets your need for relaxation. Read More...
Golf instructors tell students to hit the ball in the sweet spot, and that's sensible advice. For golfers of every standard, Phuket is probably the sweetest spot of all for hitting a golf ball. While other destinations in Thailand are also home to good courses, only in Phuket is it possible to enjoy first-rate golf, plus sun-drenched beaches and coral-reef diving, all close to fine cuisine and a varied nightlife. Read More...
If you're the type of person who loves to zip through the sky 40 metres above a jungle, Flying Hanuman in Kathu is just the right place for you. Eco-friendly and well executed, Flying Hanuman explores the jungle in a decidedly aerial way. Read More...
One of the most popular spectator sports in Thailand is the martial art of Muay Thai. Exciting enough on TV - the furious punches, crushing elbow strikes, lethal kicks and artful feints are even more riveting when seen live. Phuket has a lot of training camps open to all ages and genders. The training programmes cater for those who simply desire to improve their health and boxing skills. Read More...
In case you didn't know it, Phuket's West Coast is gaining a reputation as a surf destination. Okay, so this is no Waikiki, and surfers here would be the first to admit that, but the island's West Coast is the best place for surfing in Thailand. There are three main annual surf contests in Phuket. Read More...
Dino Park is a mini-golf course and restaurant located right in between Karon and Kata beaches on the Beach Road itself. The 18-hole course is themed on dinosaurs and has many large and life-like cement dino statues, along with an erupting 'volcano' as well as a Flintstones-themed restaurant. Read More...
Phuket Cable Ski & Wakeboarding near Kathu Waterfall is one of the most fun and challenging activities in Phuket. Whether you are a beginner or an expert, you can enjoy many exciting rides from water skiing to kneeboarding and wakeboarding on a large freshwater lake. Read More...
Unmatched in southern Thailand, Splash Jungle Waterpark at Mai Kao Beach offers a great day out on exciting water slides, rides and more all in one themed water park. If you're looking for a place to take the kids for an exciting and invigorating day out, Splash Jungle is the perfect destination. Read More...
Rate This Place:
( votes)