Patong Beach is one of the most popular destinations in Phuket. The resort town is mostly renowned for its 3-km-long beach and for its tremendous and often hectic nightlife, but there are also a good number of natural and manmade attractions and sites that add to Patong's appeal.
Discover these top attractions in (and near) Patong Beach, listed below. These range from the beach resort area's infamous nightlife hub – Bangla Road, to its attractive and secluded beaches like Freedom and Paradise, as well as rainforests with hidden waterfalls. You can also check out museums that can help you learn about Phuket's mining history. Find these and other great things to do in and around Patong Beach, Phuket.
Interested in this tour? Book it here.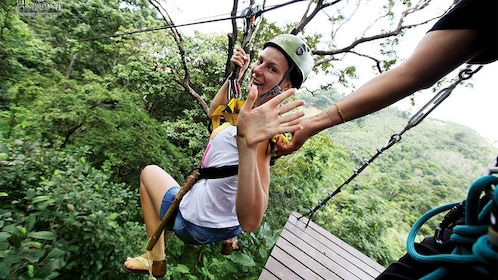 per traveler
Free cancellation
Book
Soi Bangla (Bangla Road) is Patong's liveliest party zone – where no visit to Phuket is complete without. Famous for its raunchy nightlife, Soi Bangla offers an incredible entertainment area filled with bargirls, drinks and music that increases in volume as the moon rises.
Jammed most nights throughout the year, it's a relatively unintimidating yet lively place to walk around with bars that compete for customers. With beer bars, go-go bars, live music, dining, market stalls, street performances and international-standard nightclubs, there is something along Bangla Road for most tastes. Read More...
Location: Bangla Road, Patong, Kathu, Phuket 83150, Thailand
The Jungceylon shopping complex is diagonally opposite the famous Bangla Road and serves as one of the modern landmarks in the Patong Beach area. The 2 main stores in the shopping complex are Robinson – a gleaming well-lit upper-end department store, and the Big C supermarket.
The 200-plus other stores in this shopping heaven sell brand-name clothes, spectacles, sunglasses, cosmetics and perfumes, shoes, DVDs and computer games. There are also tons of mobile phones and accessories, electrical goods and it is also a great family entertainment destination with the SF Cinema and a 16-lane bowling alley on-site, perfect for rainy days or to escape the heat of the day. Read More...
Opening Hours: Daily from 11am to 10pm
Location: 181 Rat-u-thit 200 Pee Road, Patong, Kathu, Phuket 83150, Thailand
Tel: +66 (0)76 600 111
Of the many big shows to see around Phuket, Simon Cabaret is widely regarded as among the very best. The plush theatre on the road leading towards Karon is home to nightly 70-minute performances of a remarkable extravaganza which features huge song and dance routines, comedy acts, sound-alikes and more, and with influences from around the world.
A unique aspect of the family-friendly cabaret shows in Thailand is that each and every one of the dozens of performers is transsexual, though you would never be able to tell as they are all remarkably glamourous – particularly those at Simon Cabaret. Read More...
Opening Hours: Daily at 6pm, 7.30pm and 9pm
Location: 8 Sirirat Rd, Patong, Kathu, Phuket 83150, Thailand
Tel: +66 (0)87 888 6888
Freedom Beach is a 300-metre-long strip of white sand on Phuket's west coast that's dotted with granite rocks and surrounded by hills covered by thick and luxuriant jungle. Essentially, Freedom Beach's exclusivity comes from its rather difficult accessibility, although things are getting a bit better nowadays.
Apart from sunbathing, popular activities that can be enjoyed at Freedom Beach are beach soccer, beach volleyball and snorkelling. There are no jet skis or other noisy marine leisure activities at Freedom Beach. The only audible engines are those of the longtail boats sailing in and out with visitors. Read More...
Location: Patong, Kathu, Phuket 83100, Thailand
Paradise Beach is one of the most stunningly beautiful beaches in Patong. It's one of the most attractive of the many wonderful beaches Phuket has to offer. The waves off the beach also offer safe swimming year-round. It's compact and has great views right across Patong Bay.
The beach itself is barely 150 metres long and there is another small beach right next to it that you can reach by a path through the rocks. Paradise Beach is also the home of Phuket's only Koh Phangan-style beach party venue. Read More...
Opening Hours: Daily from 9am to 7pm
Location: 109, Muen-Ngern Road, Patong, Kathu, Phuket 83150, Thailand
Tel: +66 (0)83 743 9009
Spas and massages in Patong come in a sheer amount of available choices. That's why picking a place to get a massage in Patong seems like an almost impossible task.
There's a venue for practically any spa-going budget in Patong, from low-cost local joints to 5-star spas that have claimed international awards, not to mention excellent massage rooms in most of the larger hotels and resorts. Also, there almost seems to be the promise of rest and relaxation from every other shopfront in the city! Read More...
Surf House Patong Beach is a vibrant surf centre on Patong's Beach Road, just over the road from the Immigration office and the famous sandy Patong Beach. It's a fun 'flow-riding' facility where you can learn to surf in a safe and controlled environment.
The second outlet of the famous Surf House in Kata Beach, the Patong Beach branch has a similar size of flow-rider. It can be divided up into a range of lanes that provide you with 'sheet waves' that you can surf on as if they were waves in the ocean. Due to the water speed around you, this is a wild ride that can be enjoyed by all different levels of experience. Read More...
Opening Hours: Daily from 9.30am to 12am
Location: 162/6-7 Taweewong Rd, Patong, Kathu, Phuket 83150, Thailand
Tel: +66 (0)88 156 1555
Eco-friendly and well-executed, Flying Hanuman offers you a chance to discover Phuket's rainforest canopy from a really special angle. It is a unique experience as you'll never see exactly the same scenario even if you return many times.
According to the period of the year or the time of the day, the forest's colours and atmosphere change. This fun and family-friendly adventure lets you get right up close with nature in a way that no usual forest trek could ever match. Read More...
Opening Hours: Daily from 8am to 6pm
Location: 89/16 Moo 6, Soi Namtok Kathu, Wichitsongkram Road, Kathu, Phuket 83120, Thailand
Tel: +66 (0)81 979 2332
Famous for its brutality, Muay Thai has become a popular martial art around the world. As the name suggests, it started out in Thailand and there is no better place to see it done well in regular bouts than in its home country.
Patong is a great place to see live Muay Thai matches. It has 2 stadiums – Patong Boxing Stadium Sainamyen and Bangla Boxing Stadium. Between the 2 venues, Patong Boxing Stadium is considered to be more 'real'. Matches are usually held every Monday, Thursday and Saturday nights. It isn't so much about the show and more about champions of their craft going head-to-head at the centre of a lively and excited crowd. Read More...
Opening Hours: Monday and Thursday from 9am to 11.30pm. Tuesday, Wednesday and Friday from 9am to 5pm (closed on Sundays)
Location: 2/59 Sainamyen Road, Patong, Kathu, Phuket 83150, Thailand
Tel: +66 (0)817 377 193
Phuket Wake Park near Kathu Waterfall is one of the most fun and challenging outdoor activities in Phuket. Whether you are a beginner or an expert, you can enjoy many exciting wake-boarding rides on a large freshwater lake that's equipped with 2 Sesitec Cable systems: a short one for beginners and one that goes all around the basin.
The wakeboarding park is open year-round and is usually busiest during the monsoon season when the waves off Phuket's beaches generally become too rough for swimming. The park's English-speaking and friendly staff members are always around to guide you along, especially if you're totally new to the sport. Read More...
Opening Hours: Daily from 7am to 9pm
Location: 86/3 Moo 6 Wichitsongkram Rd, Kathu, Phuket, 83120, Thailand
Tel: +66 (0)76 202 525
Patong Go-Kart Speedway is a fun and rip-roaring activity that's great for the whole family. You can find the go-karting circuit at the feet of Patong Hill's Kathu side. The racetrack is 750 metres long and has a series of sharp curves, smooth bends, and a long straight towards the start/finish line that calls for thrilling acceleration.
Opened in 1991 and managed by a German national, it is handled by a professional and dedicated Thai team. Anyone with a passion for moto racing visiting Patong should definitely check out this place. Read More...
Opening Hours: Daily from 10am to 7pm
Location: 118/5 Wichitsongkram Rd M.7, Kathu, Phuket, 83120, Thailand
Tel: +66 (0)76 321 949
Kathu Waterfall is a popular weekend spot for locals to chill out among nature. The waterfall consists of a series of pools that are sometimes gushing with rainwater and at other times not. The best time to go is usually between June and November when there's plenty of monsoon water but it's advisable not to go when it's actually raining as things can get rather slippery underfoot.
To get to the very top of Kathu Waterfall, expect a hard climb, though the beautiful scenery justifies the effort. Right at the top, there's a pool in which you can take a dip and there are other 'drop pools' on the way where you can cool off in. Most of the ascent is shaded so you can stop and take rests, too. Read More...
Location: Kathu, Phuket 83120, Thailand
Rate This Place:
( votes)